Bestuurders deur die ID of naam van die toestel
Bekende toestelle:165022367
Die laaste bekende bestuurder: 23.12.2020
A Pair of Monitors with 5:4 Aspect Ratio from iiyama
Iiyama, a Japanese monitor manufacturer, replenished its product line with a pair of displays with an unusual aspect ratio. Models E1980SD-W1and E1980SD-B1 feature 5:4 aspect ratio and differ from each other only by the color of casing (white and black). Along with all up-dated technologies and possibilities, iiyama offers a 3-year limited warranty that secures absolutely free servicing for all customers. The recommended price for the new entries is established at $177 mark.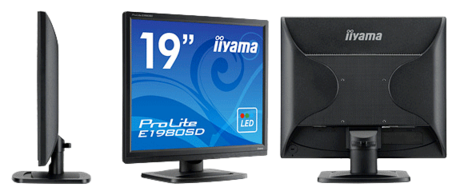 Monitors E1980SD-W1and E1980SD-B1 employ TN+film panel type and are characterized by 5 ms array response time (transfer from White to Gray). The nominal resolution of 1280x1024 ensures good viewing angles (170 degrees across and 160 degrees down), 250 cd/m2 maximal brightness, and 1000:1 maximal static contrast with five million to 1 dynamic contrast. Option iStyleColor is responsible for the improvement of image quality.
Both models are characterized by the reduced showings of power consumption. Hence, the monitors consume not more than 16W power in operational mode (up to 28W depending on the working mode) that is considered to be quite an optimal index for such type of products. The interface panel is represented by D-Sub and DVI-D (with HDCP support) video ports, audio socket for headphones, and some stereo speakers.
The display is housed on a multi-functional stand that provides for altering of the pitch range from -4 degrees to +21 degrees. In addition, there is a possibility to hang the display on the wall thanks to a dedicated VESA bracket (100x100 mm dimensions).