Bestuurders deur die ID of naam van die toestel
Bekende toestelle:163074949
Die laaste bekende bestuurder: 15.12.2019
AOC Launches New Full-HD Monitor d2769Vh
Announced earlier last month, PC monitor AOC d2769Vh is already on sale in the European market. This is a new 27-inch solution in the company's inventory, supporting Full-HD resolution and featuring a lot of viewing privileges. First of all, the model employs an advanced IPS panel type that is equipped with LED backlit. It ensures 1920x1080 resolution, 5 ms response time (GtG), and the maximal viewing angles: 178/178 degrees both, vertically and horizontally.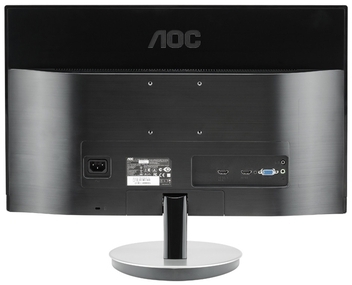 Secondly, monitor d2769Vh is distinguished by the support of Mobile High-Definition Link (MHL) interface, which promotes for the unification in functionality of HDMI and micro-USB ports. As a result, the users are free to connect to the display various MHL-compatible mobile devices that might work as the source of video signal.
Thirdly, the employment of IPS panel positively influences upon the model's performance. Therefore, it boasts the maximal brightness of 250 cd/m2, the maximal amount of displayed colors (approximately 16.7 m), traditional static contrast index (1000:1), and the maximal dynamic contrast index of 20M:1. Connectivity is introduced by HDMI and D-Sub video ports.
The other thing to mention is that AOC d2769Vh is considered to be extremely power-saving. Its smart energy-efficient nature and newest LED backlight provide for 50% less power consumption, if compared with similar solutions from other manufacturers. Moreover, this monitor brings 3D viewing to a new level. It ensures that video imaging should be flicker free, mainly due to polarized glasses that use diverse patterns for right and left eyes.