Bestuurders deur die ID of naam van die toestel
Bekende toestelle:163074949
Die laaste bekende bestuurder: 15.12.2019
AOC Outs Five New IPS-Displays
AOC enters the market with five advanced monitors. The business-oriented new-comers, all based on IPS panels, can boast the implementation of thin frames in the design. First things go first.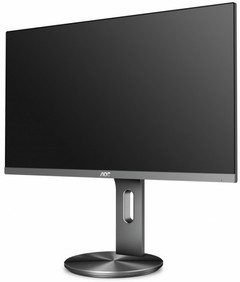 AOC I2490VXQ & I2490PXQU are marked by the integration of Full HD screen resolution (1920x1080). The models offer 4 ms response time, 1000:1 static contrast index and 250 cd/m2 maximal brightness level. One of their key peculiarities is an ultimate color rendering as well as the coverage of 100% sRGB & 90% NTSC. The I/O panels accommodate a pair of built-in 2W speakers, HDMI, DP and D-Sub video ports.
Yet, the second display brags about the incorporation of USB 3.0 ports and an ergonomic stand which supports various positions, including height, tilt, angle of slope adjustments. Pricing is set at 169 EUR/199 EUR respectively.
To continue, AOC I2790VQ (249 EUR), I2790PQU (279 EUR) & Q2790PQU (399 EUR) models are housed on 27-inch panels. The first two items support Full HD resolution with the ultimate brightness level of 250 cd/m2, whereas the third one boasts Quad HD resolution (2560x1440) with the maximal brightness index of 350 cd/m2. Static contrast and response time are identical to the junior models.
The monitors come equipped with a pair of built-in speakers. The I2790VQ employs a standard stand with minimum options; the model's interface panel houses D-Sub, DP & HDMI video ports. The I2790PQU adds an ergonomic stand and a couple of USB 3.0 ports. Finally, the Q2790PQU is shipped with an additional HDMI port.