Bestuurders deur die ID of naam van die toestel
Bekende toestelle:163074949
Die laaste bekende bestuurder: 15.12.2019
ASRock Introduces Its Upgraded DeskMini PCs
The ASRock Co. has brought to the CES 2017 event its upgraded RX and GTX lines DeskMini PCs.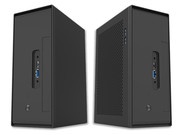 Details are obscure; however, general info is available. It is known, for example, that the dimensions of these devices are 210 х 137.5 х 81.9 mm. The motherboards utilized are of Mini-STX form factor, and the supposed CPUs are of the Kaby Lake generation.
The highest RAM capacity of these models equals to 32 GB; and there's a possibility to embed drives due to the 2 SATA connectors and 3 M.2 slots. Such ports as USB 3.0 (x3), USB 2.0 (x2), HDMI (x2), DisplayPort, Mini DisplayPort, Thunderbolt 3 and Gigabit Ethernet deliver extra convenience.
These novelties can be equipped with either GeForce GTX 1060 or Radeon RX 460, RX 470, RX 480 (MXM) graphics cards. At the same time, the TDP rate should not exceed 120 W.
Therefore, we can assume that ASRock will produce fully gaming and rather effective VR compatible compact PCs.