Bestuurders deur die ID of naam van die toestel
Bekende toestelle:163074949
Die laaste bekende bestuurder: 15.12.2019
Asus Amazes Customers by Graphics Cards of ROG Matrix Series
Asus has made an official announcement about the replenishment of its graphics cards ROG Matrix series. According to the voiced information, the new products will amaze all potential customers by uncompromising performance and overclocking facilities. Codenamed Asus ROG Matrix HD 7990 GHz, the series is supplemented by both standard and Platinum Edition versions. By all appearances, this couple represents the most up-to-date developments and most efficient characteristics targeted at enthusiasts and gamers.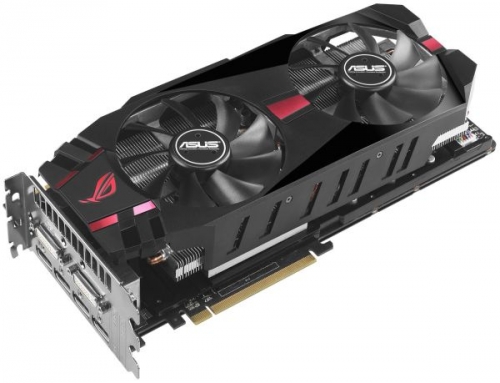 Graphics card Asus ROG Matrix HD 7970 GHz Platinum Edition employs a uniquely selected graphics processing unit which is capable to demonstrate up to 1100 MHz performance in Turbo Boost mode. Its nominal frequency equals to 1050 MHz. Unlike Platinum Edition, standard version shows traditional 1000 MHz (nominal clock frequency) and 1050 MHz while overclocking. It should be mentioned that working frequencies are the only discrepancies found in both cards.
Therefore, both versions are equipped with 2048 current processors, a couple of 8-pin PCI Express power sockets, and 20-phase power supply subsystem. Memory system is represented by GDDR5 memory chip with 384-bit interface; its nominal working frequency approximates 6600 MHz. In addition, both cards are developed to work with PCI Express 3.0 bus type.
The video interface panel is represented by two DVI and four DisplayPort ports. The implemented cooling system consists of three-slot cooler with a couple of powerful fans. What is more, Asus is going to release ROG Matrix newbies with GPU Tweak applet that serves the means of overclocking settings.