Bestuurders deur die ID of naam van die toestel
Bekende toestelle:163074949
Die laaste bekende bestuurder: 15.12.2019
ASUS ROG XG Station 2 Turns a Laptop into a Powerful Gaming System
The ASUS Company has officially presented ROG XG Station 2, a unit, which turns a laptop into a powerful gaming system with VR support.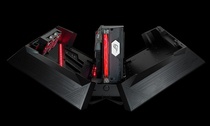 ROG XG Station 2 is an external docking platform for the discrete graphics accelerator. The device is connected to the notebook via a high-speed Thunderbolt 3 interface (with a USB Type-C port). Additionally there is a USB 3.0 Type-B port.
A full-size graphics card can be installed.
ROG XG Station 2 is suitable for the peripherals connection. It can be accomplished due to the presence of four standard USB 3.0 ports, as well as a network cable jack.
The inbuilt power supply unit delivers the capacity of 600 W.
The dimensions of the ASUS device are the following: 456 × 158 × 278 mm.
This novelty will be on sale at the beginning of the year. We should note, though, that this station is compatible only with select laptops by ASUS. The price of ROG XG Station 2 has not been reported yet.