Bestuurders deur die ID of naam van die toestel
Bekende toestelle:165022367
Die laaste bekende bestuurder: 23.12.2020
Be Quiet! Silent Loop: A Powerful Liquid Cooler for Powerful CPUs
Be Quiet! made a personal breakthrough in cooling area. The company has developed the first in its signature lineup liquid cooler targeting high-efficient CPUs. The Silent Loop supports all up-to-date as well as outdated platforms, including AMD FM1/AM2/AM2+/AM3/AM3+/FM2/FM2+ & Intel Socket LGA2011-3/2011/1366/115x/775. The cooler is ready to dissipate up to 400 W power; hence, it might be integrated within overclocking and gaming systems.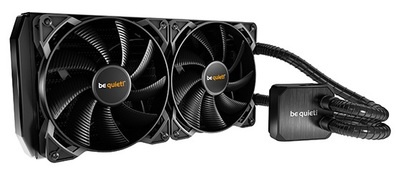 The model is a combination of a water block, patch cables (up to 390 mm in length), a heatsink (319x144x30 mm), and a pair of 140-mm fans (Pure Wings 2). At first sight, the layout is standard. However, the cooler features a range of interesting technical solutions. For example, it houses an isolated reverse pump which ensures low noise level & minimal level of vibrations. The reverse stream technology enables the injection of a coolant from the external counter to the internal one via a cooling plate. This is called to enhance heat dissipation effect.
The heatsink consists of copper fins (not aluminum ones); the nickel-plated base allows for employing metal-containing thermal compounds. The fins guarantee an optimal heat transfer. The hoses have got a dedicated protection against kinking; this provides for an unimpeded coolant circulation.
The pump rotates at 2200 RPM. It is connected by means of a 3-pin socket. The fans are based on rifle bearings, estimated for 80.000 hours of foolproof operation. They are connected through 4-pin connectors. The fans' maximal rotational speed makes up 1600 RPM. The blades are able to produce up to 92.2 CFM airflow, producing 16.1/24.1/37.3 dBA noise (25%/50%/100% loading) respectively.