Bestuurders deur die ID of naam van die toestel
Bekende toestelle:163074949
Die laaste bekende bestuurder: 15.12.2019
Fractal Design Updates Its Core 1000 Chassis to USB 3.0 Version
Fractal Design, an outstanding Swedish PC cases developer, decided to update its mini-tower Core 1000 chassis model with the purpose to heighten its competitive power. Released in 2011, this case has not undergone major design renovations but its layout has been a bit modernized: the manufacturers integrated a single super-speed USB 3.0 port to provide for a better performance.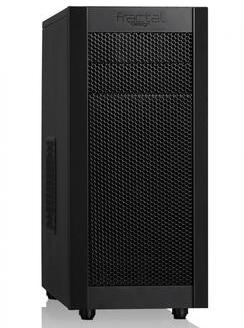 Codenamed Core 1000 USB 3.0, this chassis features 175x355x420 mm dimensions and supports mini-ITX/micro-ATX motherboards. It's housed in a totally black, austere casing and has got a grid-like frontal panel with removable anti-dust filters. Internal layout is predestined to accommodate two 5.25-inch drive bays, two 3.5-inch HDD bays or three 2.5-inch SSD/HDD bays, four PCI expansion cards, CPU coolers of up to 148 mm in height, PSUs of up to 185 mm in length, as well as graphics cards of up to 350 mm in length (without HDD bay) or up to 210 mm in length with an installed HDD bay.
To continue, Fractal Design equips its Core 1000 USB 3.0 with a low-noise Silent Series R2 fan of 120 mm dimensions, placed at the top panel. Additionally, it's feasible to integrate four supplementary fans: a single 120 mm fan at the frontal part, a single fan of the same specs at the bottom and at the side panels, and one more fan of 92 mm dimensions at the rear part.
The interface panel is represented by Power button (+LED), Reset button, HDD LED, a couple of 3.5 mm audio In/Out slots, one USB 3.0 and one USB 2.0 ports. The nominal delivery set of FD Core 1000 USB 3.0 consists of a chassis itself, a detailed user's manual, and an accessory box.