Bestuurders deur die ID of naam van die toestel
Bekende toestelle:163074949
Die laaste bekende bestuurder: 15.12.2019
GeForce GTX 1080 Ti SC2 Hybrid Gaming – a Novelty by EVGA
The EVGA Co. introduced GeForce GTX 1080 Ti SC2 Hybrid Gaming, which is its latest graphics card.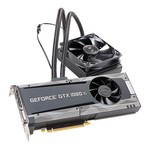 The remarkable point about this product is the presence of the hybrid cooling system, incorporating the nonmaintained system with a 120 mm fan for GPU and memory chips chilling and a casing with a fan for cooling power subsystem elements heatsinks.
The iCX technology applied involves the use of nine thermal sensors, exactly indicating various adapter parts overheating. The hybrid cooling system lets decrease the GPU temperature by 35 degrees, and the memory temperature — by 30 degrees comparing with the reference sample.
The core's clock rates are 1,556/1,670 MHz, and the memory operates at the 11 GHz frequency. The power supply subsystem features 9 phases. Components are protected by EVGA's warranty.