Bestuurders deur die ID of naam van die toestel
Bekende toestelle:163074949
Die laaste bekende bestuurder: 15.12.2019
HIS Showcases New Graphics Card with Improved UVD GPU
The line of graphics cards manufactured by HIS has been recently replenished by an alternative Radeon HD 7950 IceQ Boost Clock model. The card takes a modified graphics adapter from AMD and is based on Tahiti PRO chip, developed according to 28 nm technological process. This chip houses 1792 current processors which are designed under an advanced Graphics Core Next architecture.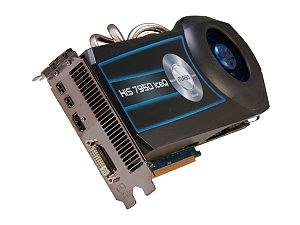 One of the major technological peculiarities pertained to a new model is the implementation of a unique two-slot IceQ cooler that involves an aluminum heatsink, four copper heat pipes and low-noise powerful fan. As claimed by the manufacturer, the integrated cooling system exceeds the cooler applied in the reference model in terms of heat dissipation power and noise. Hence, noise level produced by IceQ does not exceed the boundary of 28 dB; at the same time, it reduces the GPU temperature at 12 degrees as compared with the reference model.
To continue, Radeon HD 7950 IceQ Boost Clock is based on a blue printed circuit board and is compatible with PCI-Express 3.0 x16 bus. Its inventory involves GDDR5 memory type of 3 GB capacity with 384-bit interface. The nominal memory clock frequencies equal to 5000 MHz. GPU is characterized by 850 MHz clock frequencies, however, AMD PowerTune technology provides for its overclocking up to 925 MHz.
This graphics card is notable for the integration of an improved Unified Video Decoder graphics processor which supports Video Codec Engine, MPEG-4/DivX, Multi-View Codec, MPEG-2, H.264/AVCHD, and other options. The model is compatible with DirectX 11.1 technology and might also support some other advanced standards provided by AMD: ZeroCore Power, Steady Video 2.0, Eyefinity 2.0, CrossFireX Multi-GPU, etc.