Bestuurders deur die ID of naam van die toestel
Bekende toestelle:163074949
Die laaste bekende bestuurder: 15.12.2019
Hottest Review: CORSAIR Case Obsidian 500D
It's here!
Finally! Among the huge variety of cases the Corsair Obsidian has introduced the model 500D, made in the form factor of Mid-Tower. The novelty is remarkable for its strict and simple design, it is made mainly of steel and aluminum, and the side faces are covered with panels of tempered glass.
The new model is one of the most expensive of the Corsair cases.
Main Points
Case Type - Mid-Tower
Material - Steel, aluminum, and glass
Weight - N/A
Slots - 7+2
Drive Bays - 2x Internal 2.5/3.5"
3x Internal 2.5"
Motherboard Form Factors - Mini-ITX, Micro-ATX, and ATX
Dimensions - 500 x 237 x 507 mm
Front Door/Cover - N/A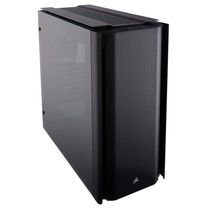 Front Fans - 120/140 mm x 3 (1x 120 mm pre-installed)
Rear Fans - 120 mm x 1 (pre-installed)
Top Fans - 120/140 mm x 2
Bottom Fans - N/A
Side Fans - N/A
I/O - 2x USB 3.0
1x USB 3.1 Type-C
1x Headphone
1x Microphone
Fan/LED Controller - N/A
Compatibility - CPU cooler: 170 mm
GPU - 370 mm
PSU - 225 mm
Packaging and Design
You will find the newcomer in the simple brown card box. You can be sure that nothing will be damaged or got dirty as the case is held by foam blocks and a piece of cloth. You will receive numerous screws, zip ties, and some CORSAIR-branded Velcro strips. You are able to mount up to five such devices inside the chassis.
The materials of the case are glass, aluminum and plastic. On the front you can see the CORSAIR logo.
The power button is equipped with power LED. Also you can find a small reset button, and the usual set of USB 3.0 and audio plugs.
Characteristics
The dimensions of the Corsair Obsidian 500D are 502 (D) x 233 (W) x 508 (H) mm with a weight of 10.5 kg.
Inside the case you can place an ATX motherboard, seven expansion cards, a power supply up to 225 mm, three 2.5-inch and a pair of 2.5-inch drives. The length of installed video cards is limited to 370 mm, and the height of the processor cooling system should not exceed 170 mm.
The system can be based on a motherboard format Mini-ITX, Micro ATX, ATX or E-ATX. Expansion slots are made by the formula "7 + 2".
When using an air cooling system, the fans can be mounted as follows: 3×120 mm or 2×140 mm in front, 2×120/140 mm from the top and 1×120 mm from the rear. In the kit there are two 120-mm coolers - in the front and rear parts.
Inside, there is room for two drives in a 3.5-inch form factor and for three 2.5-inch storage devices.
5.25-inch compartments are not provided.
The liquid cooling system can rely on a radiator of such sizes as 360, 280, 240 and 120 mm. The height of the processor cooler should not exceed 170 mm. The maximum length of the power supply is 225 mm.
The package includes two 120-mm fans, and in total there are six seats for the installation of fans and three mounting points for radiators of SVO size 360/280, 280/240 and 120 mm. On the I/O panel, ports USB 3.0 (x2), USB 3.1 Type-C and a pair of 3.5-mm audio connectors are available. Among other things, one can note the possibility of a vertical installation of one two-slot video card.
The Corsair Obsidian 500D can be purchased for an estimated price of 150 euros.
Conclusion: Why the newcomer is worth of attention
+Thick glass side panels look stylish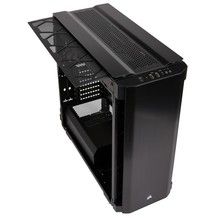 +Aluminum trim everywhere
+USB 3.1 Type-C connector embedded
+Excellent liquid-cooling compatibility
+Very well-designed dust filters
+Removable fan-mounting brackets in top and front
+Metal shroud to cover PSU
+Metal cover for really clean cable-management behind motherboard tray
+Two retail-quality fans included