Bestuurders deur die ID of naam van die toestel
Bekende toestelle:163074949
Die laaste bekende bestuurder: 15.12.2019
Intel to Officially Unveil a Flagship Motherboard DZ87KLT-75K
Several days are left till the official introduction of a new flagship motherboard from Intel, known as DZ87KLT-75K (Kinsley). The board is based on an overclocking Z87 Express chipset and employs 8-phase CPU power supply system. Memory subsystem is represented by four DIMM slots for DDR3 modules, while expansion facilities involve three PCIe 3.0 x16 slots, three PCIe 2.0 x1 slots, a single PCI and a single mini-PCI slot. Storage capacities accommodate eight SATA III 6 Gb/sec ports.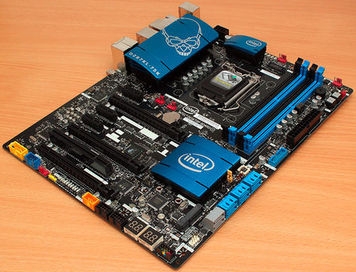 Overclockers, as well as experienced users, will receive an opportunity of utilizing Power and Reset buttons right from the printed circuit board. This model offers 7.1-channel sounding, based on a corresponding controller, eight USB 3.0 ports, FireWire port, optical S/PDIF, a pair of gigabit Ethernet ports to enable network options, a single mini-DisplayPort and one Thunderbolt port. Frontal interface panel is able to propose a couple of USB 3.0 ports, Bluetooth 4.0 and Wi-Fi 802.11 b/g/n modules.
Among other facilities ascribed to DZ87KLT-75K it's possible to single out the availability of a system speaker, five 4-pin sockets for the connection of fans, and a set of various LED indicators.
It should be noted that Intel is going to showcase one more motherboard model, codenamed DZ87KL-70K. It differs from the flagship board by absence of mini-DisplayPort and Thunderbolt ports; instead, it employs a single mini-DisplayPort video output.