Bestuurders deur die ID of naam van die toestel
Bekende toestelle:165022367
Die laaste bekende bestuurder: 23.12.2020
Meet New Super Cooler PH-TC12DX from Phanteks
Phanteks decided to amaze the public by releasing a new high-performance cooler PH-TC12DX that is able to cope with practically any up-to-date CPU from Intel or AMD. The sales campaign has started from the USA market where the model goes at $55-$60; the price depends on the color version: coolers with black fan impellers and heatsinks go at $55, while models with red, blue or write components cost $60.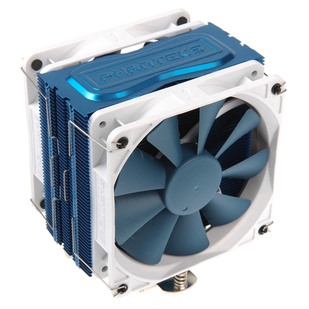 Phanteks PH-TC12DX features tower-like framework. Its construction consists of two heatsink blocks, four U-shape heat pipes that pierce those blocks, and two voluminous 120 mm fans which are located on both sides of aluminum heatsink blocks. The latter are designed with an unusual shape of impellers, known as Maelstrom Vortex Booster (MVB). This cooler is equipped with PWM controller that monitors and regulates fan rotational speed; thus, the speed might be adjusted to the minimal 600 RPM and to the maximal 1800 RPM.
The implemented type of bearings provide for 150000 hours of their foolproof operation. On rotation activity each fan produces up to 68 CFM airflow, but the noise level does not exceed 27.6 dB.
More perceptible heat management process is secured thanks to the cooler's support of patented P.A.T.S. and C.P.S.C. technologies. P.A.T.S., Physical Anti-Oxidant Thermal Shield, as well as C.P.S.C., Cold Plasma Spraying Coating, is related to the employment of special surfaces that ameliorate heat transfer from the heat pipes to the heatsink, and reflect the heat produced by other than CPU sources.
The framework of PH-TC12DX accommodates SoliSku fixing system which is compatible with CPU sockets from Intel (Socket LGA 775/1366/1155/1156/1150/2011) and AMD (Socket AM2/FM2/FM1/AM2+/AM3/AM3+). Moreover, the nominal delivery kit contains a dedicated thermal compound PH-NDC.