Bestuurders deur die ID of naam van die toestel
Bekende toestelle:163074949
Die laaste bekende bestuurder: 15.12.2019
MSI GeForce GTX 1050 Ti 4GT LP – a Low-Profile Graphics Card for Compact Systems
According to computational performance, the NVIDIA GeForce GTX 1050 Ti series graphics cards are ranked at the NVIDIA GeForce GTX 960 level, but their power consumption rate is lower compared to NVIDIA GeForce GTX 950. This makes them excellent game video cards variants for compact chassis, if the monitor resolution doesn't exceed Full HD.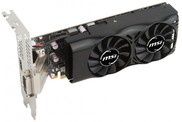 This very context induced the production of MSI GeForce GTX 1050 Ti 4GT LP low-profile Graphics Cards, which dimensions are 182 х 69 х 35 mm. They are based on NVIDIA GP107-400 graphics engine with 768 CUDA, the frequency formula of which fits the reference value of 1290 / 1392 MHz. 4 GB of GDDR5-memory with the 128-bit bus and the effective frequency of 7008 MHz operate concurrently.
The MSI GeForce GTX 1050 Ti 4GT LP model internal nodes are cooled by the low-profile cooler, the construction of which contains a heat sink and a pair of axial-flow fans. The element base is of high quality and corresponds to the MSI Military Class 4 paradigm. The external interface set offers such ports as HDMI, DVI-D and DisplayPort.