Bestuurders deur die ID of naam van die toestel
Bekende toestelle:165022367
Die laaste bekende bestuurder: 23.12.2020
MSI Unveils New Gaming Graphics Card GeForce GTX 760 Hawk
MSI has recently introduced its newest graphics adapter with the support of Twin BIOS technology. Codenamed MSI GeForce GTX 760 Hawk, the card positions itself as an optimal solution for inveterate gamers, as well as for overclockers. The new-comer is based on Nvidia's GK104 GPU (28 nm technological process) with 1152 CUDA cores. It runs on dynamically heightened frequencies, as compared with the reference model.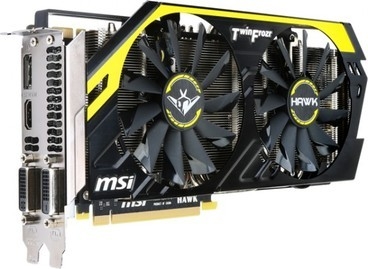 Therefore, the nominal clock frequency has been raised from 980 MHz to 1033 MHz, whereas the overclocked frequency has jumped from 1111 MHz to 1176 MHz. As for the memory, represented by 2 GB GDDR5 modules with 256-bit rail, its frequency index has not undergone any changes: 1502 MHz/6008 MHz (nominal/overclocked).
To continue, GTX 760 Hawk takes a fully modified 8-layer PCB as the basis. GPU power supply is ensured by means of an efficient power converter and prime-quality Military Class 4 components, including solid-state Hi-C CAP capacitors with tantalum cores, Dark Solid CAP capacitors with aluminum cores, and ferrite SFC chokes. The combination of all cutting-edge elements provides for a higher performance and better optimizing potential on gaming.
New graphics card from MSI is furnished with an updated version of MSI Twin Frozr IV Advanced cooling system. The cooler consists of a voluminous heatsink, SuperPipe heatpipes (8 mm each), a pair of 10 cm fans, elaborated according to Propeller Blade technology, and special deflectors with the support of Airflow Control technology. The incorporation of such cooling layout allowed the manufacturer to substantially reduce GPU temperature and noise level, if compared with the reference model.
Twin Frozr IV Advanced cooler also supports a well-known Dust Removal technology that compels the fans rotate reversely up to 30 seconds, each time they start their operation. Additionally, this graphics adapter features:
— Twin BIOS technology that employs two independent BIOS chips; the first one comes with a firmware, optimized for gaming and common usage, while the second one is optimized for an extreme overclocking;
— MSI OC Kit that facilitates overclocking process;
— a range of up-dated technologies that bring the card to a higher level: OpenGL 4.3, DirectX 11.1, Shader Model 5.2, Nvidia's GPU Boost 2.0, VSync, Surround, Blu-ray 3D, FXAA, TXAA, and SLI.