Bestuurders deur die ID of naam van die toestel
Bekende toestelle:163074949
Die laaste bekende bestuurder: 15.12.2019
MSI Z97 Overclocking Motherboards are Ready for High Scores
MSI has replenished the lines of companies with a few series of motherboards based on a fresh Intel Z97 chipset. MSI Z97 Overclocking series is a peculiar one, ready to marvel by high scores. It is introduced by three hi-end models: MSI Z97 MPower, MSI Z97 XPower AC and MSI Z97 MPower MAX AC. In keeping with the idea, the triple offers high functionality, combined with an unprecedented stability and a striking design.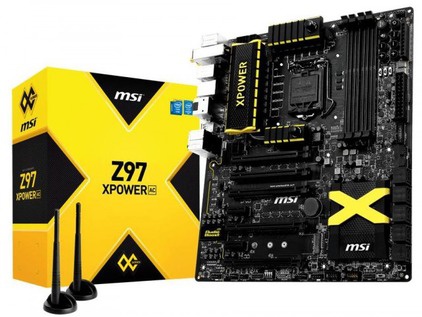 Being the basis for an overclocking system, these motherboards ensure a long-lasting durability in extreme loading conditions, primarily due to the premium hardware base. Hence, the models are equipped with Military Class 4 components with Guard-Pro core, which provides for the highest protection against high temperatures, humidity, electromagnetic distortions, and electrostatic discharge. Besides, Guard-Pro features MSI ECO Power technology that disables power on idle controllers for a more power-efficient operation.
To continue, it should be noted that all three models have survived OC Certified testing. It presupposes the startup of a 'heavy' Prime95 stress-test during 24 h with an overclocked CPU but without additional cooling.
Prime functionality is what differentiates MSI Z97 Overclocking from the competitors. The manufacturer has realized the whole range of options, intended for exacting enthusiasts:
— the possibility to install rather high and massive CPU coolers;
— the availability of a dedicated stand for an additional fan that cools the board on OC Fan Stand utilization;
— the feasibility to add the heatsink of power elements to the liquid cooler;
— the support for OC Engine technology that offers a flexible set of settings for overclocking parameters;
— the integration of multiple buttons and keys for a direct access to the basic parameters;
— the realization of V-Check Points 2, diagnostic Debug LED, CeaseFire hardware options;
— the inclusion of an exclusive Delid Die Guard frame that allows for removing the CPU heatspreader in order to enhance the cooling process and direct airflow towards the cores.