Bestuurders deur die ID of naam van die toestel
Bekende toestelle:163074949
Die laaste bekende bestuurder: 15.12.2019
New High-Performance Desktop PC Power Mega III from CyberPower PC
CyberPower PC, and American-based supplier of miscellaneous PC solutions, is delighted to present its fresh elaboration – high-performance desktop PC, codenamed Power Mega III. This PC might operate as a high-end computing system or a home multimedia center. According to the company's designers, their creation is able to easily cope with video content production and editing, CAD/CAE applications processing, and 3D-video playback.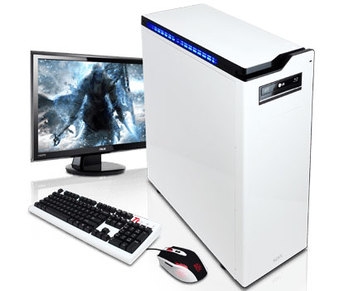 Power Mega III comes in several variations to meet the demands of diverse customer groups. Thereby, the system might come housed either in NZXT H630 or Thermaltake Urban S21 chassis, with Intel Haswell or Intel Xeon processors, and with Nvidia Quadro K or AMD FirePro professional graphics cards.
It should be noted that high-end desktop configurations involve two Xenon E5-2630 processors with the total of 24 cores. They are equipped with 32 GB RAM memory, supporting ECC technology, a pair of 120 GB solid-state drives, and a single 3 TB hard drive. As for the graphics, these PCs employ Quadro K4000 professional adapter. Moreover, with the purpose to provide for stable and glitch-free operation, the company equips high-end models with dual liquid cooling, where each CPU gets its own cooler.
CyberPowerPC delivers all Power Mega III models with a 3-year warranty. Prices vary depending on the configuration: the minimal price makes up $1099 and the maximal – about $4249.