Bestuurders deur die ID of naam van die toestel
Bekende toestelle:163074949
Die laaste bekende bestuurder: 15.12.2019
New Thunderbolt Edition Graphics Card from Zotac
Zotac, a well-known designer of graphics solutions, has developed a unique in design graphics card. Entitled Zotac GeForce GTX 660 Thunderbolt, this card is heading a new Thunderbolt Edition series that is considered to be a more affordable product than Extreme series. The novice is equipped with an original PCB and an effective cooling system.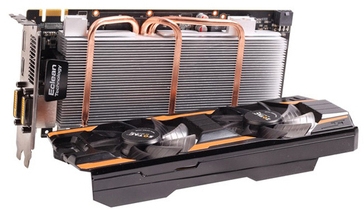 Zotac GeForce GTX 660 Thunderbolt is primarily characterized by a unique cooling system that consists of a large aluminum heatsink, three cooper heat pipes which get in contact with GPU from one side, and a couple of 100 mm fans. It should be mentioned that Zotac developers have realized a dedicated Eclean technology in their card that enables a hassle-free demounting of fans and top cover with the purpose of cleaning the cooler from dust.
GK106 chip, designed on Kepler architecture under 28 nm technological process, functions as the basic element in GeForce GTX 660 Thunderbolt card. It involves 960 CUDA cores and operates at 980 MHz (nominal frequency). The implemented Nvidia GPU Boost technology promotes for the increase of GPU frequency up to 1033 MHz.
The layout of printed circuit board with PCI Express 3.0 x16 bus differs from the one found in a reference model. Memory system is introduced by GDDR5 memory modules with 192-bit interface and 2048MB of overall capacity. Memory efficient frequency approximates 6008MHz. Interface panel consists of a single SLI socket, one PCI Express Power socket, and a set of video outputs: DVI-D, DVI-I, HDMI, and DisplayPort. Connection to power supply unit is realized via 6-contact slot.
New graphics solution from Zotac officially supports DirectX 11 and a scope of technologies designed by Nvidia: SLI, 3D Vision Surround, 3D Vision, TXAA, FXAA, Adaptive Vsync, CUDA, and PhysX.