Bestuurders deur die ID of naam van die toestel
Bekende toestelle:163074949
Die laaste bekende bestuurder: 15.12.2019
Official Presentation of CPU Cooler Thermaltake BigTyp Revo
Thermaltake, a world-known producer of thermal solutions, chassis and PSU, has officially presented its new CPU cooler modification, codenamed BigTyp Revo. This model has already been introduced at Computex 2012 where it got a lot of encouraging reviews and good prospects for the sale campaign. BigTyp Revo is considered to be an efficient solution for the cooling down of the around-socket spacing due to the horizontal radiator localization. Thermaltake representatives underline that their new product is compatible with Intel (LGA775/1155/1156/1366/2011) and AMD (Socket AM2(+)/AM3(+)/FM1) platforms.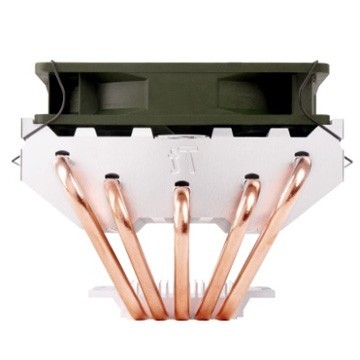 BigTyp Revo framework consists of a compact radiator, low-noise fan, five heat pipes and a set of aluminum plates. The new model has got an aluminum base and is furnished with five copper heat pipes (6 mm each). Each of the pipes directly 'gets in touch' with the CPU surface, providing an outstanding heat removal power. The top of the radiator accommodates 120 mm fan which can be characterized as a low-noise item, producing not more than 20 dB of noise. Such framework stimulates the airflow and ensures that CPU and its surrounding components received the maximal cooling and airflow.
The major peculiarity of this fan is that is boasts the advanced option of rotation speed monitoring and control. This function became possible thanks to the width-pulse modulation technology. The fan is able to gain the speed from 800 to 1800 r/min. Its characteristics promote for the thirty thousand hours of failure-free operation. BigTyp Revo is able to cool down CPUs with TDP index of 160 W.