Bestuurders deur die ID of naam van die toestel
Bekende toestelle:163074949
Die laaste bekende bestuurder: 15.12.2019
PNY Debuts with GeForce GTX 750 and GTX 750 Ti Adapters
PNY, following an echelon of graphics cards manufacturers, has launched its own versions of Nvidia's GeForce GTX 750 adapters. The PNY GeForce GTX 750 and PNY GeForce GTX 750 Ti are based on power-efficient Maxwell architecture that does not compromise on performance. Both new-comers operate at etalon frequencies and are thought to provide entry-level customers with some outstanding facilities. The preliminary retail price of models makes up $124 and $149 for GTX 750 and Ti version correspondingly.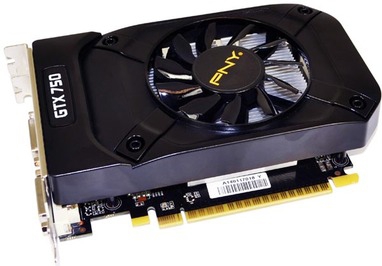 The PNY GeForce GTX 750 employs GM107-300 GPU (512 CUDA cores), whereas the PNY GeForce GTX 750 Ti is equipped with GM107-400 GPU (640 CUDA cores). Both run at 1020 MHz (nominal) / 1085 MHz (boost) clock frequency. The products are differentiated also by the incorporation of video memory.
The first model involves 1 GB of GDDR5 memory; it uses 128-bit interface and runs at 1250 MHz (nominal) / 5000 MHz (efficient) frequency. At the same time, the second model involves 2 GB of GDDR5 memory; its nominal/efficient clock frequencies equal to 1350 MHz/5400 MHz respectively.
To continue, the new-comers employ PCI Express 3.0 x16 internal interface. The list of external interfaces counts one DVI-I, one DVI-D, and one mini-HDMI ports. Cooling of all major components is realized by a two-slot cooler. It consists of an aluminum heatspreader and a single axial-type fan.
Despite the budgetary segment predestination, the couple from PNY offers the whole range of advanced technologies elaborated by Nvidia: FXAA, TXAA, Surround, Blu-Ray 3D, GPU Boost 2.0, G-Sync, PhysX, 3D Vision. In addition, the models support DirextX 11.2 and OpenGL 4.4 standards.