Bestuurders deur die ID of naam van die toestel
Bekende toestelle:165022367
Die laaste bekende bestuurder: 23.12.2020
Release of Low-Profile Cooler Slim Silence A-Plus from Gelid
Gelid Solutions, a Hong-Kong based renowned manufacturer of thermal solutions and other PC hardware, has lately presented its low-profile CPU cooler, codenamed Slim Silence A-Plus, for AMD platform. The new cooler is compatible with AMD AM2(+), AM3(+), as well as, FM1. According to the words of the Asian manufacturer, this model is capable to manage processors with the TDP index fluctuating in the measures of 95W.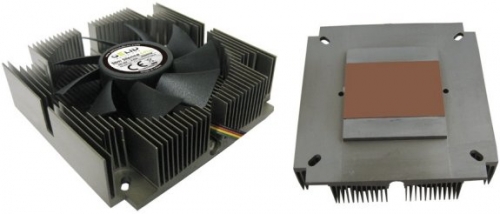 There is one peculiar feature about Slim Silence A-Plus: its design resembles the design of coolers destined for GPU due to the foveate fan. That is why, customers can sometimes confuse this cooler's destination.
CPU cooler Slim Silence A-Plus goes in rather compact dimensions; its height does not exceed 28 mm, while its weight equals to 282 g. Such compactness provides for its unimpeded installation into chassis of different form-factor, starting from Mid-Tower, and finishing with Mini-ATX, 1U and HTPC.
The cooler's casing consists of an aluminum radiator with a couple of heat-pipes, and a fan which is based on the rolling bearing. The fan is able to achieve the rotation speed up to 1200-2600 rpm; at the same time, the noise level stays in the measures of 15-27 dB. The integrated cooling system enables an appropriate heat removal from the CPU and other components.
Slim Silence A-Plus is primarily released with GC-2 thermal paste. The term of the fan's non-failure operation might reach fifty thousand hours.