Bestuurders deur die ID of naam van die toestel
Bekende toestelle:165022367
Die laaste bekende bestuurder: 23.12.2020
Sapphire Pulse Radeon RX 550 Graphics Cards Are 158 mm Long
Radeon RX 550 graphics cards were to hit store shelves yesterday. The suggested price of the product is 80 USD, however, there is no reference sample. With this background, AMD partners may set prices of their own free choice.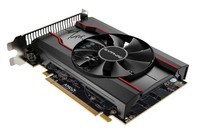 The Sapphire Company introduced two RX 550 models under the Pulse Radeon RX 550 2GD5 and Pulse Radeon RX 550 4GD5 code names. It's not hard to figure out, that the only difference between them lies in the memory volume.
The GPU boost clock of these video cards equals to 1,206 MHz, and the memory operates at the 7,000 MHz frequency. Owing to the low TDP level (50 W, as reported by AMD), the adapter doesn't require a superpowerful cooling system. That's why Sapphire models are rather compact – 158 mm long only!
Chilling is provided by a cooler with a small heatsink and one fan. The HDMI, DVI and DisplayPort interfaces are located on the rear panel.