Bestuurders deur die ID of naam van die toestel
Bekende toestelle:163074949
Die laaste bekende bestuurder: 15.12.2019
SilverStone Recommends the $83.7 Price for Its Compact Raven RVZ03 Novelty
The SilverStone RVZ01-E model has been further developed into the compact Raven RVZ03 (SST-RVZ03B) sample with the awesome appearance due to its full-colour backlighting.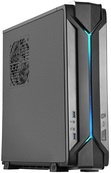 The new chassis holds a mini-DTX or a mini-ITX system card, an ATX power supply unit and up to four 2.5-inch drives. At the same time, it offers enough space for 330 mm expansion cards (including those, taking two slots). The maximum allowable height of the CPU cooling device is equal to 83 mm, the power unit length – 150 mm. However, the manufacturer suggests using 140 mm (or shorter) power sources with modular wiring systems and flatform cables.
In this case, which can be oriented vertically or horizontally, two 120 mm fans with the 1,500 rpm rotary speed are already installed and the third one can be also mounted.
The I/O panel has a couple of USB 3.0 ports, as well as jacks for a mic and headphones. The case, costing 98 EUR, weighs 4.05 kg and possesses the 382 x 105 x 350 mm dimensions.