Bestuurders deur die ID of naam van die toestel
Bekende toestelle:163074949
Die laaste bekende bestuurder: 15.12.2019
The Latest EK-FC GeForce GTX FE Water Blocks Will Replace Their Earlier Announced Counterparts for GeForce GTX 10x0 and Titan X
EK Water Blocks presented full-cover water blocks for Pascal generation GeForce GTX video cards, namely EK-FC GeForce GTX FE. The specialty is an extraordinary solution, because it's compatible with as many as 106 graphics accelerators, which is atypical for full-cover products.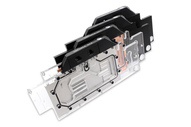 EKWB releases several samples, suitable for GeForce GTX 1060, 1070, 1080, 1080 Ti, Titan X Pascal and Titan Xp cards. The vendor doesn't distinguish between water blocks models and calls all of them EK-FC GeForce GTX FE. Moreover, the company remarks that new EK-FC GeForce GTX FE units will replace earlier announced products for reference GeForce GTX 10x0 and Titan X adapters.
Specialties will be available in four versions, differing in materials, used for their production. The lower EK-FC GeForce GTX FE part can be performed either out of pure copper or out of nickel-plated copper. The upper part can be manufactured out of POM Acetal or acrylic material. The new EK Water Blocks product is compatible with all EK-FC1080 GTX, EK-FC1080 GTX Ti and EK-FC Titan X Pascal backplates and low-profile pumps.
In the nearest future EK-FC GeForce GTX FE will be on sale at the price of 110 EUR.