Bestuurders deur die ID of naam van die toestel
Bekende toestelle:163074949
Die laaste bekende bestuurder: 15.12.2019
The Silicon Power Armor A62 Portable HDD Complies with the IPX4 Certificate and the MIL-STD 810G Military Standard
The Silicon Power Company has introduced an innovative external HDD drive, namely Silicon Power Armor A62. The product will be manufactured in six variants – 1 and 2 TB for the Silicon Power Armor A62S modification and 2, 3, 4 and 5 TB for the Silicon Power Armor A62L version. Framework dimensions differ, too. They are 131.7 х 86.5 х 14.9 mm in the first and 131.7 х 86.5 х 22.8 mm in the second case. This novelty weighs from 180 to 282 g.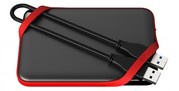 In spite of its stylish design, the A62 provides high level of protection for secure data storing. The rugged black and red Silicon Power Armor A62 housing is made out of plastic material and ribbed components, supplying strong protection against smudges and scratch marks. Breakthrough diagonal fixing elements perform a useful carry function for the I/F cable supplied (Micro-B to Type-A for the S model and Type-A to Type-A for the L sample).
The construction is water-proof and 3 m falling resistant, as far as inside it is additionally reinforced to comply with the IPX4 certificate and the MIL-STD 810G military standard. One can use the USB 3.1 Gen 1 interface for data transmission and power supply.
Silicon Power Armor A62 drives will be sold with a 3-year warranty applied and a free SP Widget app. Cost is unveiled yet.