Bestuurders deur die ID of naam van die toestel
Bekende toestelle:163074949
Die laaste bekende bestuurder: 15.12.2019
Unveiling Limited Edition of USB-Drives from Silicon Power
Silicon Power, a renowned manufacturer of flash-memory solutions, unveils its plans about the upcoming release of two new USB-drives. Codenamed LuxMini 720 and Touch 830, the product will be supplied in limited edition. Both drives are compatible with Mac OS, Windows (XP, Vista, 7) and Linux platforms and correspond to the RoHS standards. Unusual design, — the implementation of thematic art prints, — is considered to be a chief peculiarity of LuxMini 720 and Touch 830 models.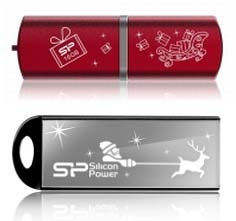 Both models will be delivered in two versions: 8GB and 16GB capacities. These drives are known to support USB 1.1 and USB 2.0 standards and feature ten thousand activations durability term. The other characteristic feature ascribed to the upcoming products is free of charge brand software, codenamed SP Widget, which is intended at provision of seven most essential for data security options.
Model LuxMini 720 features approximately 54x16x7 mm dimensions and weights not more than 10 g. It is housed in a solid aluminum casing and does not require any external power supply sources. The casing has got bright red coloring.
Its companion, model Touch 830, features approximately 35x12x3.5 mm dimensions and weights 4 g. It is housed in steel casing that owns waterproof, dust-tight and vibration-proof properties. The casing has got gray/black coloring. Similarly to LuxMini 720, this model does not need any external power sources.