Bestuurders deur die ID of naam van die toestel
Bekende toestelle:165022367
Die laaste bekende bestuurder: 23.12.2020
Vendors Present the Shuttle X1 Nettop as a Gaming Mini PC
Shuttle is well-known for its nettops, cases and barebone systems. In the meantime it presented its latest product – a mini PC under the X1 code name.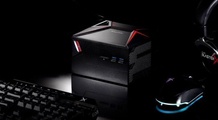 Despite the fact that a nettop cannot function as a gaming system, a pilot Shuttle X1 hybrid is developed to prove a negative. The novelty will operate the NVIDIA graphics accelerator, support VR content and 4K video.
Reportedly, Shuttle X1 will be based on the unidentified Intel processor. Vendors assure that by the time of release the chipset chosen will be one of the most innovative Intel solutions for devices of such a format. Customers should also expect Intel Optane support and presence of many interfaces for peripherals and accessories connection on the X1 chassis.
Regarding Shuttle X1 dimensions, we must admit that according to the image published, the nettop is going to beat Intel NUC and will be not pocket-sized. Unfortunately, for the moment Shuttle experts decided not to reveal technical details and shared only scant data about their specialty.