Bestuurders deur die ID of naam van die toestel
Bekende toestelle:163074949
Die laaste bekende bestuurder: 15.12.2019
Xigmatek Manifests Specifications of Apache III
Xigmatek, a Taiwanese manufacturer of PC cooling solutions, has just promulgated the specifications of its new cooler series entitled Apache III. The series consists of two models only, which differentiate themselves by the casing's material and color. Model CD901 is housed in a silver aluminum casing, while model CD903 – in a black anodized aluminum casing. Both models have been developed specifically for CPU cooling purposes; they are able to support various platforms offered by Intel and AMD: LGA 775, 1155, 1156 (Intel), Socket AM2 and later (AMD).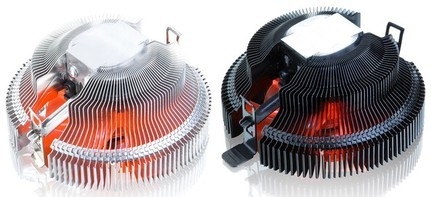 Both models in Apache III series are equipped with a voluminous aluminum heatsink and 92 mm fan with half-transparent orange ribs. The fan is based on Long Life bearing and features PWM facility that allows for the adjustment of fan rotational speed. The speed span variates between 1200-2500 rpm, depending on the CPU temperature and loading. The noise level does not outreach the measures of twenty dB.
Cooling system Apache III is capable to pump over up to 61.25 cubic feet of air per minute; this is a substantial showing for such type of coolers. One more peculiarity ascribed to CD901 and CD903 is their height which equals to 52 mm. Such compact dimensions provide for the cooler's installation into quite thin chassis, similar to HTPC standard.
The primary guide price for Apache III coolers approximates $10. They are already available for preliminary reservation.