Bestuurders deur die ID of naam van die toestel
Bekende toestelle:165022367
Die laaste bekende bestuurder: 23.12.2020
Xilence Company has presented a kilowatt power supply unit of XQ series
Taiwanese company Xilence released two PSU of unusual design — XQ Series of 750 and 850 W capacities. In contrast to usual offers on the market, these PSU are equipped with a pair of 60-mm fans. It has separate adjustment of speed and can operate in a completely passive mode at a load of up to 20-30%.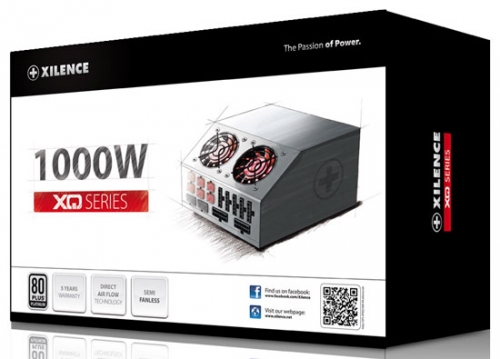 Recently, Xilence added to the above-mentioned series a power supply with nominal 1000W. New model in the pre-sale testing was certified with 80 Plus Platinum, which indicates the level of efficiency from 90% to 94% in the system of 230 V. Like its predecessors, the unit uses a modular principle of cabling, active power factor correction mechanism and complies with ATX12V v2.3 and EPS12V v2.92 standards. The list of available power cables (connectors) is the following: 4x PCI-E 6-pin, 4x PCI-E (6 + 2)-pin, 7x Molex 4-pin, FDD, 12x SATA, EPS12V (4 +4)-pin, EPS12V 8-pin and ATX (20 +4)-pin.
Five-year warranty on the Xilence XQ 1000W provides the possibility of replacement the power supply unit without any diagnosis within a year. The issue of replacement is solved via the official site of the manufacturer within 48 hours. The recommended price for device is € 200 but, for example, in Germany kilowatt Xilence XQ (product code — SPS-XPXQ-1000.R4) can be purchased for 180 euros at several online stores. Previous models 750 and 850 W are in the retail with price of € 153 and € 161 respectively.