Bestuurders deur die ID of naam van die toestel
Bekende toestelle:163074949
Die laaste bekende bestuurder: 15.12.2019
Zotac Announces Magnus 10 Mini-PC with Pascal GPU
Zotac International is proud to announce a new lineup of mini-PCs, equipped with Nvidia Pascal GPUs. The Magnus 10 lineup so far consists of two series: the Magnus EN1060 & the Magnus EN1070. Consequently, the first item is equipped with Nvidia GeForce GTX 1060 videocard, while the second one – with Nvidia GeForce GTX 1070 adapter. Despite this fact, all models feature identical case dimensions: 210x203x62.2 mm.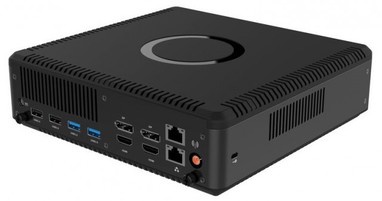 Each series includes three models. Zotac Magnus EN1060/1070 are barebone systems, void of RAM, storage subsystem & OS. Zotac Magnus EN1060/1070 Plus PCs boast the availability of 8 GB RAM (DDR4), 1 TB HDD, 120 GB M.2 SSD. The third version, Zotac Magnus EN1060/1070 Windows 10 models add support for Windows 10 Home OS.
All mini-PCs come fitted with Intel Core i5-6400T 4-core CPU that operates at 2.2 GHz (base) & 2.8 GHz (dynamic) frequency. Power supply is realized with the help of an external 180-watt PSU. All models support the installation of SD/SDXC/SDHC cards. Network possibilities are ensured by Bluetooth 4.0 & IR adapters, Wi-Fi and wired Internet connection.
Zotac Magnus 10 mini-PCs accommodate the following external ports: 2x USB 3.0, 2x USB 3.1 (Type A + Type C), 2x USB 2.0, 2x RJ-45 (gigabit Ethernet), 2x DisplayPort 1.3, 2x HDMI 2.0, and 2x 3.5-mm audio ports.