Bestuurders deur die ID of naam van die toestel
Bekende toestelle:165022367
Die laaste bekende bestuurder: 23.12.2020
'Digital' PSU Corsair AX1200i Review
Power supply unit AX1200i designed by Corsair is a high-end product applied primarily in powerful desktop platforms. Its superior characteristics are currently widely spoken about, due to the promotion of the so-called 'digital' technology in PSU layout. 'Digital' PSUs employ digital signal processors instead of traditional analog controllers to provide for the utmost performance, efficiency, and facilities. Under Corsair's words, the implementation of digital options in the development of PC units, and particularly AX1200i model, is a justified measure viewed as from technological, so from economical prospect.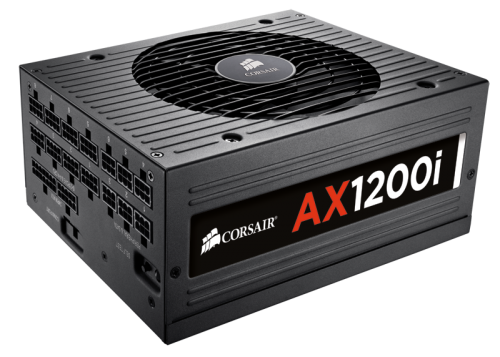 Basic Peculiarities
Corsair AX1200i is delivered in a large dual-base box, consisting of a paper cover and a corrugated cardboard. The box contains all basic information about the unit: +12VDC bus efficiency is estimated at 1204.8W/100A; the correlation between +12VDC bus and the overall power efficiency equals to 1.0 index that is supposed to be an excellent showing for a high-end PSU.
The manufacturer claims that this model supports a brand Corsair Link technology that provides information about the temperatures, consumed current and produced performance, as well as monitors the operation of an integrated 140 mm fan. In addition, Corsair Link enables the scheme reconfiguration where the user is able to switch from a single +12V line to a scheme with few lines, previously indicating the threshold for overload protection.
Cooling System
PSU AX1200i is equipped with a 140 mm fan designed by Yate Loon Electronics, codenamed D14BH-12. It is based on a high-quality slide bearing that is destined to prolong the lifetime of its operation. The maximal fan rotational speed is recorded at 2800 rpm. The speed is controlled by means of a PWM controller that realizes a hybrid operational mode; on certain conditions the fan might stop entirely or enhance its rotation.
Semiconductor components of a high-voltage section are located on several small-sized radiators. Independent power converters on +3.3VDC and +5VDC lines are located on additional boards and do not contain any heat spreaders. Transistors of a synchronous rectifier are also installed on a radiator.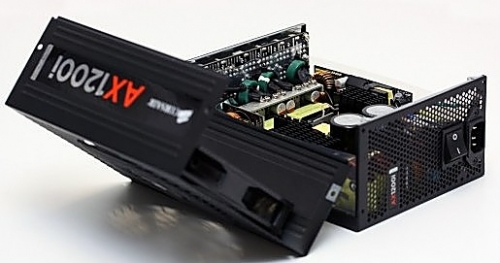 Cables and Connectors
This PSU model is notable for modular system of connection of cables with connectors. Such approach permits the customer to remove all unused wires and leave more space within and outside the casing. It should be underlined that it's feasible to remove all cables without exclusion. The length of cables enables this PSU integration into chassis of practically any form-factor, starting from mid-tower and finishing with full-tower casings. The number of connectors and their localization on wires is quite optimal:
— a single demountable connector for 24-pin Main Power Connector;
— sixteen connectors on four wires for 15-pin SATA Connector;
— six demountable connectors for 8-pin PCI Express 2.0 VGA Power Connector;
— two demountable connectors for 8-pin SSI Processor Connector;
— 6-pin PCI Express 1.0 VGA Power Connector;
— 4-pin 12V Power Connector;
— twelve ergonomic connectors for 4-pin Peripheral Connector;
— a single adapter from peripheral Connector for 4-pin Floppy Drive Connector.
Power Efficiency
Testing results proved the AX1200i high-end status: this PSU achieves more than 90% efficiency within the working ranges of 300W-1200W. The maximal recorded index equals to 93% at 600W power loading. Efficiency level decreases with the reduction of loading: on 50W loading efficiency level equals to 74%, on 32W loading – to 65%. The most efficient range is estimated for 50W to 110W loading.