Bestuurders deur die ID of naam van die toestel
Bekende toestelle:163074949
Die laaste bekende bestuurder: 15.12.2019
Air Cooler Thermalright Archon SB-E Review
Thermalright Inc. has managed to design and supply a whole galaxy of cooling solutions for the entire period of its existence. The prototype of the cooler codenamed Thermalright Archon SB-E was announced last spring and its original version has reached the market this autumn. This model is characterized by some outstanding efficiency and noise level showings, as well as high compatibility with diverse platforms.
General Peculiarities
This air cooler is delivered in a traditional for this manufacturer cardbox. The box contains the cooler itself and a set of key components, featuring a universal backplate, a set of screws, a screwer, fan frames, and brand thermal compound — Thermalright The ChillFactor III. Archon SB-E features 175x155x79.5 mm dimensions and weighs 940 g. It is compatible with Intel and AMD platforms and supports sockets LGA 775/1155/1156/1366/2011 (Intel) and 939/FM1/FM2/AM2/AM2+/AM3/AM3+ (AMD).
Framework
The implemented heatsink accommodates forty-four plates and eight heat pipes (6 mm each) which do not pierce the plates but are disposed in the form of two rectangles with uneven localization of pipes along the perimeter. If compared with the Archon cooler, SB-E model has got a bit smaller heatsink area that might affect the heat dissipation activity. Lower heatsink plates do not come in contact with five pipes out of eight available and are fixed by three tubes. The base features a finished surface that perfectly matches the CPU.
This air cooler is equipped with a voluminous 150 mm fan (Thermalright TY-150) that is known to be controlled by means of PWM controller. The fan is based on Enhanced Hyper-Flow bearing and consumes not more than 2.4W on peak loading. Its nominal voltage index equals to 12V (0.20A). Its rotational speed might be altered within the measures of 500-1100 RPM. The noise level approaches 19-23 dB while operation. This fan is able to produce the airflow up to 84CFM. It is fixed to the heatsink with the help of two staples.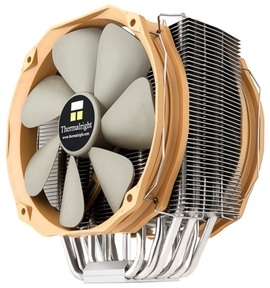 Installation and Testing
As it was mentioned earlier, Thermalright Archon SB-E is compatible with the majority of contemporary platforms. This is achieved due to the application of a universal backplate used while installation. Upon the whole, this air cooler feels quite comfortable inside the majority of compatible PC enclosures.
Testing results proved an impeccable reputation of all coolers supplied by Thermalright. Thus, its efficiency is estimated at good level: if compared with Archon model, this cooler appears to be more efficient at 3 degrees (fan rotational speed is fixed at 800 RPM) when CPU reaches its peak loading. However, SB-E did not manage to surpass Phanteks PH-TC14PE in this respect that proved to be more efficient even at minimal speeds. Such gap is explained by the reduction of a heatsink surface area that correspondingly reduces the heat dissipation area; this results in poorer cooling effect.
Noise level tests have been accomplished on all operational ranges, according to an elaborated testing template. One might state the fact that Archon SB-E predecessor has been far more quieter than the new version. With the purpose to achieve the most optimal noise level, fan rotational speed should be reduced to the margin of 880 RPM, that might appear to be ineffective on conditions of high CPU temperatures. Nevertheless, if considering Phanteks PH-TC14PE, SB-E can boast far more quieter operation on all rotational ranges.