Bestuurders deur die ID of naam van die toestel
Bekende toestelle:163074949
Die laaste bekende bestuurder: 15.12.2019
ANTEC P8 CASE NEWEST REVIEW
Antec has expanded the range of computer cases in the Mid-Tower format with the P8 model, in which it is possible to install ATX, Micro-ATX and Mini-ITX motherboards. The main feature of the novelty can become the side wall which is completely made of 4 mm thick tempered glass. The size of the case is 470x443x210 mm.
Specifications
Body type: Mid-Tower
Material: Glass, steel, plastic
Weight: 7.5 kg
Slots: 7Storage bays: 2x 2.5 "/3.5" (internal)
4x 2.5 "(internal)
Form factor of motherboards: Mini-ITX, Micro-ATX, ATX
Dimensions: 443x210x470 mmFront door, cover: absent
Front fans: 3x 120/140 mm (2x 120 mm included)
Rear fans: 1x 120 mm (included)
Upper fans: 3x120 or 2x140 mm
Lower fans: absent
Side fans: absent
I / O: 2x USB 3.01x headphones
1x microphone
FAN / LED controller: absent
Compatibility: CPU
Cooler: absent
GPU: 390 mm
PSU: 240mm
How it looks like
Antec is packed the P8 in a brown cardboard box with a picture of the device in front. The rear transmits additional information along with a diagram of the structural features of the case. Both side panels are covered with numerous tables of specifications in different languages.
In Antec P8, you will find a basic I / O set consisting of a regular pair of audio connectors, two USB 3.0 ports and traditional power and reset buttons along with the active hard drive LED. On the front panel Antec also a fairly large company logo is placed, which starts glowing when the system is turned on.
Antec P8 offers a simple, slightly asymmetrical design, consisting of straight lines and 45-degree elements, softened front end, and the rest angles are 90°.
Antec chose a high quality tempered glass for the main side panel, which is held in place by four large screws. The opposite side is completely solid, made of more traditional steel.
In the back, at the very bottom, there is a fairly standard BP compartment with one set of mounting holes to make sure the installation is correct. Above there are seven expansion slots, each of which is protected by a simple partition, with the exception of the uppermost slot. It would be nice to use reusable inserts that provide much more flexibility in replacing components with time. At the top there is a white 120 mm fan with an installed LED, pumping hot air from the rear of the case.
The upper part has a large metal mesh filter, fixed in place by magnetic strips. Below it you will find a well thought-out marking of holes for attaching to the P8 ceiling two 140 mm fans or three 120 mm or up to 240 mm of the radiator.
On the underside of the chassis there is another ventilation compartment, but it covered with a similar metal mesh filter for the power unit. You can also see where the hard drive is installed. It can move left or right, allowing you to set various cooling settings in the front of the chassis without sacrificing the HDD frame.
In front, under the casing, there is a mobile 3.5" cage with two pallets for disks, that can be used instead of 3.5" 2.5" variants. The entire front is a solid ventilation hole with two pre-installed simple fans with built-in LED backlighting. In front there is a large detachable dust filter, you also have the opportunity to install a third 120mm fan or to place a 360 mm radiator.
The installation of the power supply is quite simple. The user is to insert it into the housing under the casing and to secure with
traditional screws. There is enough space for most copies. One should not worry about whether he or she can install a device that can provide enough energy for powerful components.
Thanks to the smooth design, none of the plastic elements looks cheap. The power LED lights up blue, and the Antec logo is lit with a white light. Given this, some may argue that there is actually no need for an LED for power. However, in this way, those who do not want to have a logo as a secondary light source can simply turn it off.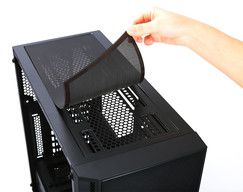 Advantages and disadvantages
+Good combination of materials
+High-quality glass side panel
+Fully steel interior
+Excellent possibilities for liquid cooling
+Three fans included in delivery
+Four trays for SSD in the delivery set
+The backlighting of the Antec logo, as a nice feature
+Top dust filter with magnets
+Worthy cable logistics
- Comes with non-retail quality fans
- I / O is a little bit simple
- Disposable covers for expansion slots
- Internal accessories used by other brands