Bestuurders deur die ID of naam van die toestel
Bekende toestelle:165022367
Die laaste bekende bestuurder: 23.12.2020
ASUS ROG Crosshair VI Hero Motherboard Overview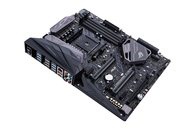 The Asus manufacturer releases ASUS ROG Crosshair VI Hero – a stunning motherboard for perfect gaming experience. Now, let's introduce main peculiarities and productivity rates of the product.
Key features
Connector type
Socket AM4
Chipset (north bridge)
AMD X370
Form factor
ATX
Memory support
4 x DDR4 DIMM; 2 channels
Max RAM capacity
64 GB (2133/2400/2666 MHz)
Slots
1 x PCI-E 2.x x16; 2 x PCI-E 3.0 x16; 3 x PCI-E 3.0 x1
CPU support
AMD Ryzen/7th gen A-series/Athlon
RAID controller
0, 1, 10
Inbuilt video
—
Inbuilt audio
8-channel HDA SupremeFX S1220 codec; Sonic Studio III; Sonic Radar III
Power supply connector
1 x 24-pin EATX; 1 x 8-pin EATX 12V; 1 x 4-pin EATX 12V
SATA II
—
SATA III
8
M.2 (NGFF) connectors
1
External ports
1 USB 3.1 Type-A; 1 USB 3.1 Type-C; 8 USB 3.0; 4 USB 2.0; 1 LAN (RJ-45); 1 optical S/PDIF output; 5 audio jacks
Warranty
36 months
Exploring basic characteristics of ASUS ROG Crosshair VI Hero, one should mark correct and stable BIOS and interfaces operation. Unique and worthy features of this Asus motherboard include AM3 coolers mounting holes, a great number of USB ports on the back panel, USB 3.1 Gen2 on a textolite, 3D Mount fittings for different designer fads, performed on a 3D printer.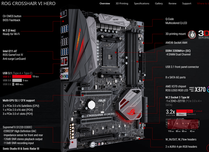 Habitually to ASUS ROG line, the specialty has an enforced processor supply system with long-life elements, an external clock generator, as well as ROG and TPU microchips for automatic overclocking. Moreover, the Crosshair VI Hero product possesses clad PCI Express slots, the ROG SupremeFX S1220A audio processor with a pack of hard- and software optimizations, the trusted network controller, the M.2 high bit rate port, 8 SATA ports, the effective velocity control and management system and 2 connectors for outward backlighting.
Outward appearance
The latest ASUS ROG Crosshair VI Hero product is designed in a severe and strict style (in dark-grey and black colours in its most part). However, a few parts should be highlighted. These are extraordinary radiators on the processor power circuit and the chipset, as well as a plastic interface panel and audio path zone cover.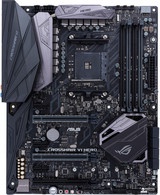 Due to its standard ATX form factor the ASUS board has got its 305 × 244 mm dimensions. The textolite is packed with plenty of elements.
Package and the supply kit
ASUS ROG Crosshair VI Hero represents a select Republic of Gamers edition, so it just has to be delivered in a bright, though austere box. On the front side of the package customers can find such data as the board series and model, alongside with a brief listing of techs supported (presented as big icons). Back side of the box contains detailed specs data, major peculiarities and an enumeration of interface options. The sticker on the lateral face indicates the series number and gives a features recap.
The basic package encloses two more boxes, one of which holds the board itself, and the second contains a set of components. The supply kit also includes 4 latched SATA-cables, a blank cover for a back panel, a hard connecting gangway for SLI, a mount for system unit case cables connection and a cable for external backlighting bands.
Contents of delivery presupposes the presence of the manual, DVD with drivers and utilities and many stickers.
Pricing and warranty terms
The ASUS ROG Crosshair VI Hero mother board is produced in China under the terms of 3-year warranty, and in most popular stores it costs about $239–259.