Bestuurders deur die ID of naam van die toestel
Bekende toestelle:163074949
Die laaste bekende bestuurder: 15.12.2019
Graphics Card Asus Radeon HD7790-DC2OC-1GD5 Review
The state of business in graphics market is becoming more intense, due to a prompt increase of new items and a violent rivalry between the two major players: AMD and Nvidia. Each of them regularly gladdens customers with new adapters, as well as with new technologies, which make video and gaming experience a pleasure. In their turn, graphics cards manufacturers try not to lag behind in implementing these technologies into their own products. Asus, is one of such manufacturers. Its card HD7790-DC2OC-1GD5 is a bright evidence of a skilful incorporation of all novelties offered by an improved GCN architecture.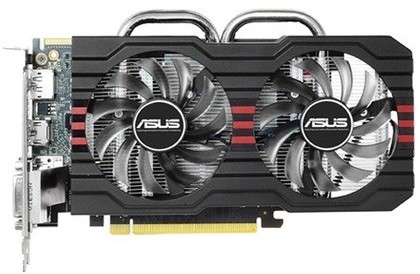 Layout
Graphics card Asus Radeon HD7790-DC2OC-1GD5 is delivered in a small-sized cardbox stuffed additionally with CrossFire bridge and DVI/D-Sub adapter. The length of PCB equals to 17 cm, while the overall length of the adapter achieves 22 cm. Power supply socket snap is turned upwards in order to prevent the hanging heatsink from interfering with power cord connection. GPU power unit is located at the left side of the circuit. GPU itself doesn't have a protection frame and is powered by 5-phase converter, supervised by NCP81022 controller. PCB also allocates memory chips H5GQ2H24AFR R0C from Hynix. The rear facet of the board features four video sockets: DisplayPort, HDMI and a couple of DVI.
The implemented cooling system consists of a middle-sized heatsink with aluminum base, a pair of thick heatpipes and a pair of 80 mm fans (Everflow T128010SH). The heatpipes are placed tightly into the base grooves; they are known to support direct GPU contact technology that efficiently removes heat from video core. There is no additional pre-installed heatsink for power elements, though such possibility is stipulated.
GPU and Memory
The heart of Asus HD7790-DC2OC-1GD5 is a totally new GPU, based on an improved GCN 1.1 architecture. The improvement is seen in its power-saving facilities (TDP level equals to 85W) and the support of instructions for heterogeneous system architecture that presumes an employment of computing powers jointly by CPU and GPU. The new core, codenamed Bonaire, consists of 896 current processors, 56 texture blocks, and 14 GCN computing units. One of the peculiarities ascribed to the graphics core is the presence of factory overclocking. Thus, Asus omitted the recommended by AMD frequencies, increasing them from 1000 MHz to 1075 MHz.
Memory subsystem is represented by 1 GB of GDDR5 memory modules which employ 128-bit bus. Its effective frequencies have been also increased from 6000 MHz to 6400 MHz.
It should be mentioned that this graphics card supports the function of voltage regulation, but only by means of Asus GPU Tweak utility. At the same time, there is no feasibility of a direct adjustment of memory running frequencies. With the attempt to do this, the user needs to adjust voltage in GPU Tweak utility and only then adjust frequencies via MSI Afterburner facility.
Acoustic Feel
Graphics solution from Asus features splendid acoustic feel that is vindicated by testing results. The nominal 1200 RPM is quite enough to efficiently cool down GPU, VRM and power supply system, saving them from overheat. The noise level on such conditions is surprisingly low. The growth of fan speed up to 1300 RPM does not affect the noise level that still remains comfortable. The repertory of both, perfect speed and noise index, makes HD7790-DC2OC-1GD5 from Asus one of the quietest cards in the market.