Bestuurders deur die ID of naam van die toestel
Bekende toestelle:163074949
Die laaste bekende bestuurder: 15.12.2019
Graphics Card XFX R7750 Black Edition Review
The market of graphics cards is currently represented by models with various specifications. This implies the abundance of opportunities for different customer groups, starting from inveterate gamers with heightened demands for graphics characteristics, and finishing with average users who adopt traditional graphics needs. Each graphics card manufacturer tries to integrated some innovative components or apply some advanced technologies in their products. Hence, Radeon HD 7750 doesn't have a reference model, since every designer adds some peculiar features to it, at least, a brand cooler. Graphics card XFX R7750 Black Edition is distinguished by the implementation of an original board, CrossFireX socket and additional power supply.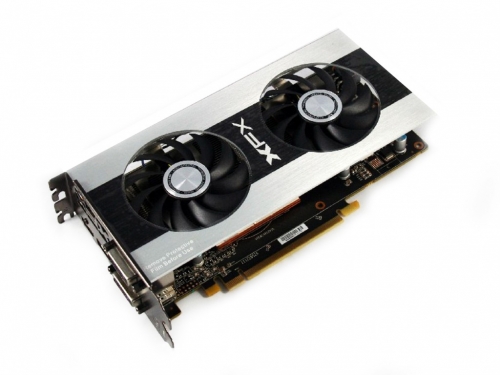 General Specifications
The major attractive peculiarity of XFX R7750 Black Edition that might draw customers' attention is the low level of TDP which equals to 55W, as compared to other similar models that consume 80W to 90W on similar conditions. It signifies that this card consumes twice less power than its counterparts to get a winning position in the market. This model is based on the original circuit board and is able to show 900 MHz GPU clock frequency. Other specifications of this graphics card model are listed below:
— GPU type: Cape Verde Pro;
— applied technological process: 28 nm;
— graphics memory type and volume: GDDR5, 1024 Mb;
— memory clock frequency: real – 1125 MHz, efficient – 4500 MHz;
— memory bus: 128 bit;
— interface: PCI-Express 3.0 x16;
— maximal resolution: analogue – 2048x1536, digital – 2560x1600.
Framework
Graphics card XFX R7750 Black Edition employs Double Dissipation cooler with two integrated fans. Cooler's copper foot is contiguous only to GPU. Memory chips do not employ any additional cooling elements. The rear plate accommodates DisplayPort, HDMI, Double-Link DVI-I, and DVI-D video outputs.
To continue, this model is distinguished by the implementation of original circuit board. The reference board is notable for the availability of four-phases, but Black Edition has got five-phase basis: three phases are assigned to GPU from a couple of controllers ANPEC APW7165C and ANPEC APW7098, one phase for memory chip cores, and one more for input-output buffer and two more APW7165C. Additional power is enabled due to the six-contact cable; there is also a slot for CrossFireX bridge.
Performance
As far as graphics card Black Edition is designed on the amplified power system, there are good chances for overclocking. Similar to reference model, this card does not allow registering and changing GPU power voltage by program means. Despite the absence of this option, GPU and memory clock frequencies can be overclocked from the nominal 900 MHz and 4500 MHz to 1200 MHz and 5860 MHz.
The integration of high-end cooler positively affects the temperature conditions. Thus, this model shows much better warm-up index than its reference model. Even if the cooler is given full rotation speed, the heightened heating from the overclocking activity is entirely compensated. It should be stated that cooling system is able to work at low-noise level when in standard mode.