Bestuurders deur die ID of naam van die toestel
Bekende toestelle:163074949
Die laaste bekende bestuurder: 15.12.2019
Monitor Philips 239C4QH Review
Contemporary PC monitors are destined to accomplish several functions at once, due to their peculiar specifications and shifts in the customers' demands and expectations. So, the monitor can serve business purposes for the work with various documents and programs, as well as, entertainment purposes for movie watching and games playing. Indeed, rather frequently monitors function as multi-purpose devices, satisfying the needs of any user. Monitor Philips 239C4QH is an apt solution as for home-based so for office assignments. It provides consumers with a possibility to watch video content and play games in real-to-life mode, as well as, enjoy its aesthetic design.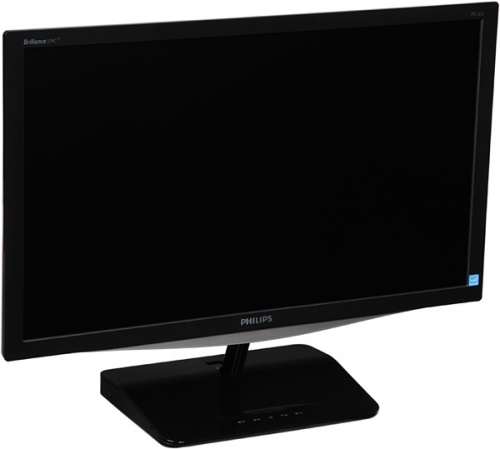 Design
Monitor Philips 239C4QH has got quite original design that immediately attracts customers' gazes. The casing, stand and base are made of black plastic with a mirror-like glossy surface. The display is black and dull; its frame accommodates a strip from transparent plastic and silver padding. Display block is thin and void of any inclusions. All sockets and outputs are located on the stand and base: activity indicator and various buttons found their places on the top surface of the base, while power socket, socket for Kensington's lock and interface slots are located on the side plates. This way the manufacturer tried to avoid unaesthetic cable grooming, since the cables are connected directly to the base. Moreover, the monitor is rather steadfast thanks to the large bottom area and reliable feet. The stand is attached to the display block and fixed to the base by means of a flexure; this flexure enables the adjustment of the monitor angle and facilitates its transporting.
Commutation and Specifications
Philips 239C4QH is furnished with three inputs: a single VGA video input and a couple of HDMI video/audio inputs. It is possible to choose the input as manually, so via menu facilities. In addition, there is an automatic search for the active input. HDMI inputs are able to receive digital audio signals which are conversed into an analogue signal after the conversion through 3.5 mm mini-jack slot. Hence, the user is able to connect external acoustic system or headphones to this slot. Sound quality doesn't rise any reproaches; sound settings are adjusted via dedicated menu options.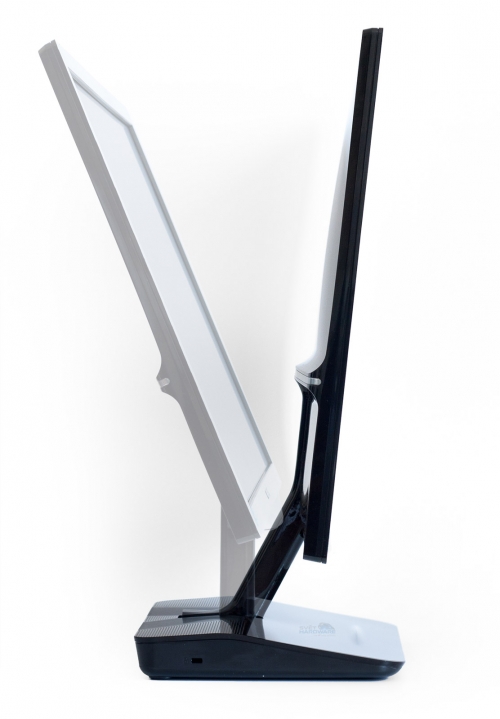 This monitor is based on IPS array type with W-LED lighting and goes in 550x421x180 mm dimensions (with stand and base). Other specifications of 239C4QH are listed below:
— display: 23 inches, resolution – 1920x1080;
— response time: 14 ms as standard and 7 ms in SmartResponse mode;
— viewing angles: 178/178 degrees (horizontal and vertical);
— number of displayed colors: 16.7 m;
— power consumption: 33.6W in standard operational mode, 28W in saving mode, and 0.3W in standby mode.
The nominal delivery kit of Philips 239C4QH consists of an external PSU, VGA cable, HDMI cable, power cable, CD with dedicated software, and detailed user manual.
Menu and Control
Power indicator turns to white when in working mode, and keeps blinking when in standby mode. All monitor buttons are sensor-like and marked by white images. If the display menu is not activated, then the first button switches SmartImage modes, the second button switches inputs, the third one serves for power activation, the fourth one switches SmartResponse modes, and the final button enables the menu. Display adjustment becomes more intuitive due to the possibility to remove the main menu and employ the lower part of the display for parameters switch.
The user is able to adjust all standard settings of the display, such as brightness and contrast. Color temperature is adjusted by selecting one of the seven available profiles or manual adjustment of color intensity. To continue, the customer is capable to choose among two modes of geometrical transformation: wide-screen and 4:3 modes. Modes availability is identified by the type of video signal.
VGA connection empowers fast automatic adjustment to the required VGA-signal parameters. The monitor supports 1920x1080 resolution at 60 shots per second in both VGA and DVI video signal connection. Color and brightness accuracy on such resolution dimensions is maximal, while the local brightness variations are practically absent.