Bestuurders deur die ID of naam van die toestel
Bekende toestelle:163074949
Die laaste bekende bestuurder: 15.12.2019
Monitor Viewsonic VX2770Smh-LED Review
In the pursuit for the state-of-the-art technological tendencies, a lot of manufacturers sometimes forget about the needs of their customers. Still, there are some companies, like Viewsonic, that never sacrifice the longing of their potential audience for convenience and performance, by delivering only high-quality and targeted products. Monitor VX2770Smh-LED from Viewsonic is one of such products that is intended specifically at PC users, satisfying their basic needs and even surpassing their expectations.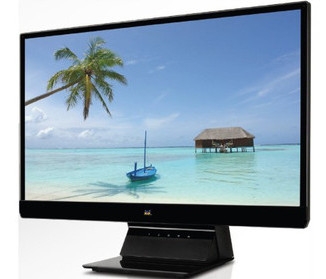 Design and Ergonomics
Viewsonic VX2770Smh-LED is a 27-inch monitor with 1920x1080 resolution and 16:9 aspect ratio. It is based on AH-IPS array and is equipped with W-LED power-saving backlight. Its design might be characterized as a symbiosis of a frameless display and a stand in the form of a leg – a brand Viewsonic development. The display casing is made of dull plastic, while its stand is all about glossy plastic. Cable-management system, as well as VESA bracket, is absent with this model. Panel with all sockets and slots for the connection of various cables has got a quite low localization. The juncture between the central stand and the base houses two stereo speakers of a substantial size.
The monitor's base, which stands on four rubber feet, is made of metal. The screen alignment is totally ideal, however the display is wiggling a bit on the stand. The central stand itself allows the user to change the screen pitch only (from -4 to +21 degrees). No other functional possibilities are stipulated for this model. The interface panel consists of a Power socket, audio-out slot for the connection of headphones and audio system, audio-in slot for the activation of built-in acoustics on VGA connection, analog D-Sub port, and digital HDMI and DVI-D ports.
Specifications and Delivery Set
AH-IPS panel (LM270WF6-SAP1) is manufactured by LG Display and demonstrates 7 ms (GtG) response time. The monitor is able to display up to 16.7 million colors and has got 178/178 degrees viewing angles. Brightness index is recorded at 250 cd/m2 mark, while contrast – at 1000:1 (static) and 30 million to 1 (dynamic). VX2770Smh-LED is powered by an external PSU.
The nominal delivery set of VX2770Smh-LED is notable by the availability of an external PSU, a power cable, CD with user guidelines and dedicated software, an assembly guideline, Quick Start Guide, an audio cable, D-Sub and HDMI cables. All told, the model is furnished with all components necessary for successful startup.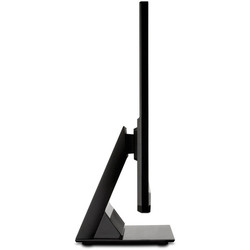 Menu and Settings
All control activities are realized with the assistance of four sensor keys and Startup button with blue/orange LED in the central part of the stand. Each key contains an icon indicating its functional. There is traditionally a set of quick options which are fulfilled by a single key clicking: volume adjustment, access to the main Menu settings, and switching of a signal source.
The main Menu is a combination of eight sections and a single subsection for Memory Recall activity. The first section, codenamed 'Auto Image Adjust' is not available on digital input source. The second section 'Input Select' is responsible for the choice of video signal. 'Audio Adjust' section is classically dedicated to the volume adjustment and the choice of audio source. 'Color Adjust' allows the user to set color temperature and adjust sRGB Mode.
'Manual Image Adjust' opens access towards sharpness, aspect ratio and eco mode settings, as well as, towards activation of dynamic contrast. 'Setup Menu' is responsible for the interface localization, OSD screen adjustment, OSD Background settings, deactivation of a power LED, etc. 'Service Menu' provides all basic information about the panel type, gives access to the brightness settings and sRGB mode on different conditions.