Bestuurders deur die ID of naam van die toestel
Bekende toestelle:163074949
Die laaste bekende bestuurder: 15.12.2019
Motherboard Gigabyte GA-F2A85X-UP4 Review
The second generation of AMD A-Series hybrid processors, announced earlier in October, are already integrated in a number of graphics solutions. The newly appeared products are compatible with Socket FM2 only and cannot be applied for Socket FM1 infrastructure. This implies that a number of motherboards lose their upgrade facilities and can't be updated with a new advanced solution. Still, the market is currently ready to present a few boards destined to operate with the updated AMD A-Series. Gigabyte is one of the pioneers in this respect, introducing its motherboard GA-F2A85X-UP4, developed specifically for Socket FM2.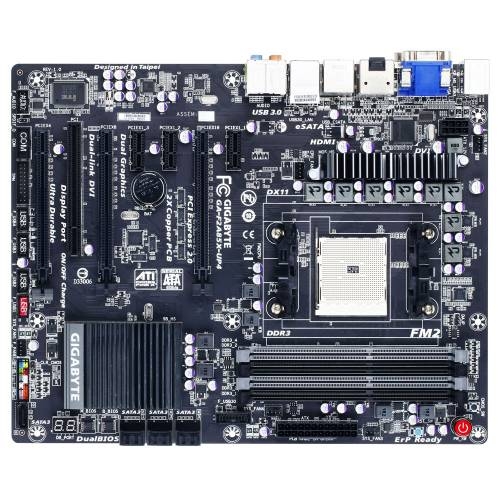 Integration
Gigabyte GA-F2A85X-UP4 is designed in ATX form-factor with 305x244 mm PCB dimensions. AMD A85X chipset is a heart of the motherboard; it secures the compatibility with A-Series (second gen.) APU and Athlon CPUs in the implementation of Socket FM2. The overall TDP level claimed for the model is not more than 100W. The PCB allots four DIMM slots for two-channel DDR3 memory, the overall capacity of which might achieve 64GB. The nominal frequency index equals to 1866 MHz, while during overclocking this index might rise to 2400 MHz.
The board accommodates five 4-contact sockets for fans, three of which are monitored by PWM technology depending on the APU temperature. Cooling system contains a pair of heatsinks which efficiently draw off heat from VRM components and system logics sector. Power subsystem is developed under 8-channel template (6+2 phases), where six phases supply power to computing cores, and the other two phases – to the integrated north bridge and memory controller. Additional power is supplied by means of 8-contact EPS12V socket.
This motherboard offers multiple facilities for customers willing to get the most from the integrated graphics core. Thus, the model is equipped with analog D-Sub, digital HDMI, DisplayPort and DVI-D ports. Support of AMD Eyefinity allows each user to extend the desktop to three displays at once. The board also supports such technologies as Dual Graphics and CrossFireX.
One can find here three PCI Express 2.0 x1 slots alloted for the installation of expansion cards; two of those slots are connected directly to the hybrid processor, while the third one – to the chipset. AMD A85X logics ensures the operation of seven SATA 6 Gb/sec ports and a single eSATA 6 Gb/sec port. All drives can be combined in various RAID configurations of JBOD, 0, 1, 5, and 10 levels. All peripherals can be connected to the board with the help of four USB 3.0 ports and ten USB 2.0 ports (two of which are located on the rear panel). Sound subsystem is realized on the basis of 8-channel Realtek ALC892 HD codec. At the same time, local network connection (gigabit Ethernet) becomes possible due to a dedicated Realtek RTL8111E controller.
Gigabyte showcases its new GA-F2A85X-UP4 as an efficient solution for overclockers and enthusiasts. Hence, it equips the model with special program buttons responsible for Power, Reset, clear firmware CMOS activities. The left side of the circuit board houses LED POST-code indicator (that reflects the uploading process), main and reserve EPROM chips with monitoring microcodes.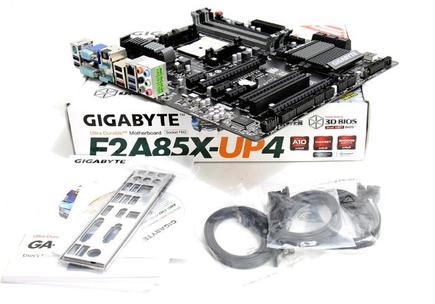 UEFI Setup
It should be noted that GA-F2A85X-UP4 is the first Gigabyte motherboard for AMD processors delivered with the control microcode, based on UEFI. It is represented by a version from AMI. Along with the support of graphics interface, UEFI enabled more convenient work with settings menu. Firmware menu is built on a quite familiar interface employed for Intel LGA1155 processors. The majority of settings pertained to overclocking and performance are located in M.I.T. section. The list of the most essential UEFI settings looks the following way:
— Advanced Frequency settings are responsible for the adjustment of nominal frequencies, for the control of computing core and northern bridge multiplier index;
— Advanced CPU Core Features settings provide for the refined adjustment of AMD Turbo Core function and for the efficient control over CPU power-saving facilities;
— Advanced Memory Features settings provide for adjustment of memory clock frequencies and timings;
— Loadline Calibration settings counteract the voltage fluctuations on conditions of high loading;
— System settings allow the customer to get all useful info about the employed firmware, and adjust all standard options (time/date, language, accessibility options, drive's status, etc.);
— BIOS Features settings are responsible for the uploading process and disk drive initialization order;
— Peripherals settings are useful in the control over system logics options and operation of additional controllers;
— 3D BIOS settings enable the configuration of all basic motherboard parameters without the need to involve the main Settings menu.