Bestuurders deur die ID of naam van die toestel
Bekende toestelle:163074949
Die laaste bekende bestuurder: 15.12.2019
Motherboard Gigabyte Z77MX-D3H TH Review
Each new year brings new ideas for the developers of PC hardware. Since motherboards are indisputably the main component in the PC integration, their design and facilities are given the most attention. Hence, each manufacturer tries to implement some unprecedented technologies to attract potential audience by an improved performance and possibilities. Intel Thunderbolt technology is a hit of 2012; that is why, motherboard designers turned their looks into this direction. Gigabyte was among the first companies to integrate Thunderbolt interface into its products: model Z77MX-D3H TH is a bright evidence of it.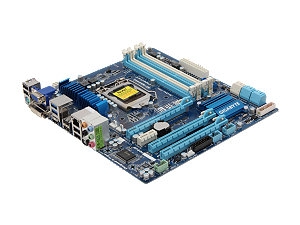 Integration
Motherboard Gigabyte Z77MX-D3H TH resembles the modification of its predecessor Z77MX-D3H, except for the availability of Thunderbolt interface and design of PCB. The renunciation of the third PCIe x16 slot allowed the manufacturer to free four lines of PCIe bus and employ Thunderbolt technology for their activation. As a result, a new product has got a couple of PEG slots which contain sixteen lines of PCIe bus. It promotes for the creation of different configurations, including 8+8 and 16+0. Two more PCIe x1 slots have been implemented to enable the support of such technologies as AMD CrossFireX and Nvidia SLI.
Basic power supply socket (24-contact) is located on the lower part of the board, while an additional one (4-contact) – on the right side of the board. CPU cooling system is connected via 4-contact socket that found its place right to the processor slot. Besides, the motherboard features two more 4-contact fan sockets: SYS FAN2 and SYS FAN1.
Z77MX-D3H TH houses four 240-contact DIMM slots that support DDR3-1066, 1333, and 1600 memory type. The maximal memory capacity equals to 32 GB. DDR3-1600 working frequency is a nominal index for Ivy Bridge processors; on conditions of Sandy Bridge CPUs, this frequency might be achieved on overclocking.
The nominal delivery kit of this motherboard model consists of a comprehensive user manual, CD with drivers and dedicated software, SLI bridge, a plug for the rear plate, and a couple of SATA cables.
Specifications
The list of the most vital specifications of Gigabyte Z77MX-D3H TH include:
— employed chip — Intel Z77, CPU socket: Socket LGA1155 (supports Ivy Bridge);
— form-factor: micro-ATX;
— system memory: DDR3 1066, 1333, 1600, support of Intel XMP technology, two-channel memory access;
— graphics facilities: two PCIe x 16 slots, support of Intel HD Graphics, Nvidia SLI and AMD CrossFireX technologies;
— disk subsystem: support of SATA 6 Gb/sec and SATA 3 Gb/sec;
— support of RAID0, 0+1, 1, 5, and JBOD;
— support of Intel Turbo Boost, Rapid Smart and Smart Connect technologies;
— availability of PS/2 port for peripheral accessories, S/P-DIF in/out and STR.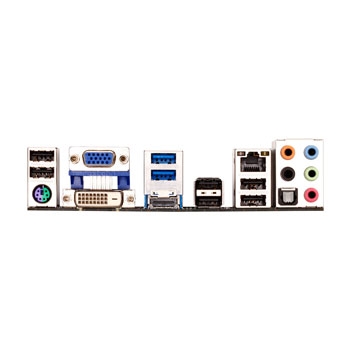 Extension Facilities
The implementation of Z77 chip empowers the support of two SATA 6 Gb/sec channels and four SATA 3 Gb/sec channels. In addition, the motherboard is furnished with ten USB 2.0 ports (four ports on the rear plate and six are connected via planks) and four USB 3.0 ports. Audio subsystem is represented by VIA VT2021 codec that supports 8-channel sound. Moreover, one can find Gigabit Ethernet network Atheros AR8151-B controller and two mini-DisplayPort Thunderbolt ports.
UEFI
Motherboard Gigabyte Z77MX-D3H TH supports UEFI interface with branded 3D BIOS graphics coverage. BIOS code is based on AMI version. All settings and sections have got analogous to the other products localization. Memory settings might be found in M.I.T. overclocking section where it's possible to select the necessary working frequency. System monitoring allows tracing the current CPU temperature, voltage on all chief elements, and fan rotational speeds. Additionally, the customer is given a chance to download and save BIOS settings profile and Q-Flash applet for firmware upgrade. There are some other useful facilities which immensely extend the possibilities of the board.