Bestuurders deur die ID of naam van die toestel
Bekende toestelle:165022367
Die laaste bekende bestuurder: 23.12.2020
Motherboard MSI FM2-A85XA-G65A Review
Military-class motherboards elaborated by MSI have been always distinguished by the implementation of all high-end components within supply circuits, by extended overclocking facilities, and by corresponding exterior design. FM2-A85XA-G65A model corroborates such outstanding descriptions, being a worthy representative of products branded as 'Military'. Moreover, the integration of high-quality and solid hardware elements enhances its overclocking potential that can't but gladden PC enthusiasts.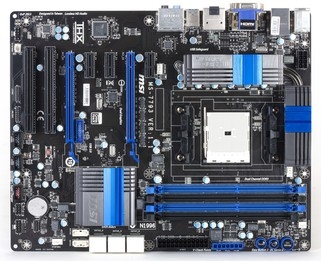 Design and Layout
MSI FM2-A85XA-G65A is developed in ATX form-factor. It is notable by a fanciful, spacious layout, taking into account the full-fledged options integrated within a single chipset. Thus, there is no need in additional controllers. The distance between two graphics slots has been doubled to organize even the most powerful CrossFire configurations. The integrated heatsinks feature 31 mm height; one of them is located only 5 mm far from CPU socket. This implies that the cooler should be lifted over the board's surface at a corresponding height. The heatsink, allocated on the southern bridge, enjoys similar design.
The availability of a welding die for the voltage measurement is thought to be a pleasant addition to overclocking facilities. According to MSI, solid-state capacitors positioned on the PCB own practically 'marvellous' durability properties, enduring up to ten operational years on the stiffest conditions. Besides, SFC chokes impose 30% more current, if compared with typical ones. Tantalum capacitors are employed by MSI along with solid-state ones. The combination of all the components is certified as MIL-STD-810G standard.
One more point to consider here is that TDP of processors compatible with Socket FM2 should not exceed the margin of 100W. Respectively, there is no need in re-computing the volume of capacitors, the number of phases and applied transistors in order to realize the whole redundancy of such layout in most utilization scenarios.
To continue, the board contains an entire set of attributes for enthusiasts. Thus, the layout embraces a heat pipe that unites the heatsinks which cool down field transistors and CPU supply circuit. Each and every overclocker will appreciate this supplementary pipe, since it speaks about better durability.
FM2-A85XA-G65A is delivered in a small-sized but a rather attractive box. The nominal set consists of a separate software guideline, multimeter and frontal facet adapters.
Integrity
The rear panel, in addition to video interface, accommodates six USB ports: four USB 2.0 ports and two USB 3.0 ports. This is not a drawback, since it's most likely predestined to be connected to low-speed peripherals. Chipset functionality is supplemented by the following controllers:
a) Realtek ALC892 is responsible for 8-channel HD audio facilities; optical S/PDIF-out is located on the rear board;
b) Realtek8111E is accountable for network facilities of the motherboard; it supports 10/100/1000 Mb/sec speed (gigabit Ethernet);
c) Fintek F71889AD takes liability for the system monitoring. BIOS presupposes automatic monitoring over CPU fan in accordance with the set targeted temperature, and offers a possibility to limit the fan rotational speed.
Power Consumption
TDP level has been recorded on the motherboard with the integrated AMD A10-5800K CPU. Hence, on text editing the board consumes 20W, on HD-video playback – 32-65W, and on maximal loading – starting from 77W and up to 116W.
Detailed Specifications
MSI FM2-A85XA-G65A features the following specifications:
— memory support: up to 64 GB of DDR3 1066-2400 (OC) MHz DIMM modules;
— expansion facilities: two PCI slots, two PCI-e x16 (Gen2) slots, three PCI-e 2.0 x1 slots, one PCI_E2 and one PCI_E5 slot;
— SATA interface: eight SATA 6Gb/sec ports with support of RAID configurations (RAID 0, 1, 5, 10);
— rear I/O interface: one RJ45 LAN jack, one audio jack, six USB ports, one PS/2 port (for peripherals), one S/PDIF, and four video ports, including DisplayPort (maximal supported display resolution of 2560x1600), DVI-D (2560x1600), VGA (1920x1200), HDMI (1920x1080);
— internal I/O interface: one ATX 24-pin Power Connector, one ATX 8-pin CPU Power Connector, four USB connectors, eight SATA connectors, various control buttons, clear CMOS button, and voltage measurement connector.