Bestuurders deur die ID of naam van die toestel
Bekende toestelle:163074949
Die laaste bekende bestuurder: 15.12.2019
Motherboard MSI Z270 Gaming M5 Review (Part I)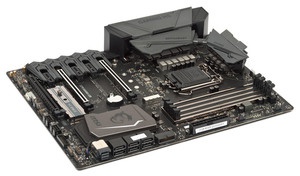 MSI motherboards game series enjoys steady popularity, so let's start getting acquainted with the updated line of products based on Intel Z270 with a simple average model having the M5 index.
Technical Characteristics
This is a full-featured product with few bonuses and no sharp simplifications in its design. The power subsystem looks quite convincing and an additional controller for USB 3.1 ports on the rear panel is engaged.
The total set of possibilities is as follows:
Model: MSI Z270 Gaming M5 (MS-7A78 VER: 1.0)
Chipset: Intel Z270
Processor sockets: Socket 1151
Processors: Core i7, Core i5, Core i3, Pentium, Celeron (Skylake-S, Kaby Lake-S)
Memory: 4 DIMM DDR4 SDRAM 2133/2400/2600 */ 2800 */ 3000 */ 3200 */ 3600 */ 3800 *(OC), a maximum of 64 GB
PCI-E slots: 2 x PCI Express 3.0 x16 (x16 + x0, x8 + x8)
1 x PCI Express 3.0 x16 (x4)3 x PCI Express 3.0 x1
M.2:
1 x PCI Express 3.0 x4 (Key M, 2242/2260/2280/22110)
1 x PCI Express 3.0 x4 (Key M, 2242/2260/2280)
Integrated (processor) graphics core:
Intel HD 510/530/610/630
The video input:
DisplayPort, HDMI
Number of connected fans:
6x4pin
Ports PS/2:
1 (keyboard/mouse)
USB ports: 2 x 3.1 Gen2 (2 connector on the rear panel (A and C), ASM2142)
6 x 3.1 Gen1 (2 connector on the rear panel, Z270)
7 x 2.0 (3 connectors on the rear panel, Z270)
Serial ATA:
6 x SATA 6Gb / s (Z270)
RAID:
0, 1, 5, 10 (SATA, Z270)
0, 1 (M.2 PCI-E, Z270)
Integrated audio:
Audio Boost 4:
Codec — Realtek ALC1220 (7.1, HDA)
Op Amp — Texas Instruments OPA1652
S/PDIF:
optical (out)
Network features:
Qualcomm Atheros Killer E2500 (Gigabit Ethernet)
COM:
1 (internal)
TPM:
+
UEFI:
AMI UEFI
Form factor:
ATX
Dimensions (mm):
305 x 244
Additional features:
POST-indicator, contacts for measuring voltage, EZ Debug LED (CPU, DRAM, VGA LED AMD 3-Way CrossFireX and NVIDIA 2-Way SLI support, U.2 port, RGB LED tape connection block, BIOS button Flashback + button, M.2 Shield.
Specifications
The motherboard's dimensions perfectly fit an ATX format having nine attachment points. All the structural elements have a reliable screw fastening.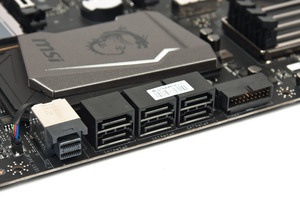 There are six classical SATA ports and one U.2 port for connecting storage devices. A pair of compact M.2 is included as well. The upper can take the devices of 21100 standard size. The bottom one is designed for a 2280 or shorter. System resources are distributed between all the splendor, that is, the simultaneous operation of all ports is impossible.
Five white LEDs are located in the upper right corner. It is a EZ Debug LED complex and an XMP active state indicator. Above the memory modules, a button allowing the firmware flashing, even when the processor is not installed, is placed.
There are pads for connecting four cables from the second and third generations' USB sockets. The POST code LED red glow indicator is located below; the CPU temperature is displayed there after booting the PC.
PCI-E slots configuration is unpretentious. The reinforced ones have the resources of sixteen lines from the CPU; the others work with the PCH. All the memory slots are covered with a single shielding cap. AC and audio codec are wired in a conventional performance and have no individual shielding structures. There is the only operational amplifier.

The rear panel is not overcrowded, but there is nothing to complain about, as the product is the one of an average price range. There are two digital video outputs. The rack for connecting the network cable is provided with red backlight. The device has seven USB outputs of different generations which is quite enough for normal PC operation scenarios. There is a button to reset the settings. The HDMI port is supplemented with the ASM1442 converter of signals' levels.