Bestuurders deur die ID of naam van die toestel
Bekende toestelle:163074949
Die laaste bekende bestuurder: 15.12.2019
PC Chassis Lian Li PC-V750 Review
The inventory of PC cases and enclosures designed by Lian Li is constantly replenishing with new products. Some of them resemble each other in design or framework, but some stand out from the line due to their non-standard elaboration. Chassis Lian Li PC-V750 can be boldly attributed to non-stock solutions, primarily thanks to unusual internal layout. This model is ready to demonstrate multiple attractive peculiarities, but they'll be reviewed all in good time.
Design
The first point to be mentioned about PC-V750 design is that it comes in three color variations: Silver (PC-V750A), Black (PC-V750B) and Internal Black (PC-V750WX). The latter is notable by the availability of a transparent acrylic side window, absent with other two models. In total, Lian Li PC-V750 is developed in Full-Tower form-factor, featuring 230x440x586 mm dimensions. It might be truly regarded as classic and laconic because of its rectangular shapes, square corners and relatively modest design. The case is made of anodized aluminum; side facets are totally blind (except for PC-V750WX) without any ventilation holes.
The frontal panel entirely complies with traditional classical designs. Its upper part houses a single 5.25-inch drive bay equipped with an ornamental plug. The rest part of the panel is allotted to ventilation grids which cover two blow-in fans (120 mm). The lower section contains a dedicated hole to blow-off hot air from PSU and a brand Lian Li logo. Control elements, as well as I/O panel, found their places at the right side of the panel: Power and Reset buttons, two standard audio slots, a single eSATA port, a single USB 2.0 port, and a pair of USB 3.0 ports.
The top facet is distinguished by the incorporation of two demountable ventilation grids that cover a pair of 140 mm blow-off fans. In its turn, the bottom panel also accommodates two ventilation grids furnished with anti-dust filters; the first one is situated in the frontal part under the PSU bay, while the other is called to facilitate the cooling down of drives.
The rear facet is practically all about ventilation grids and specialized holes. It accommodates I/O motherboard plug, a 220V socket, two covered holes for liquid-cooling system cables, and blow-off 120 mm fan. The lower part of the facet is ascribed to ten expansion slots which are covered by perforated plugs.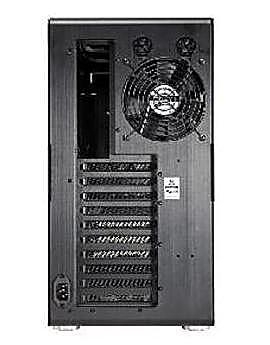 Delivery Kit
PC chassis PC-V750 is supplied in a middle-size colorful cardbox. The nominal delivery set is rather diversified, featuring all major components, as well as a set of supplementary ones. The summary list of all components includes: a user's manual, a speaker, an adapter from USB 3.0 to USB 2.0, plastic couplings for wires, a rigid fixation set from PCI-cards, thumbscrews for the motherboard installation, a clip-holder for wires, fixing screws for HDD, annular silicon vibration-proof HDD pads, screws for PSU mounting, thumbscrews for drives installation, a turn-screw for the motherboard stands, and supplementary stands for the motherboard.
Internal Layout
PC-V750 features a single-space framework. As it was observed before, this model differentiates itself by quite an unusual layout. Unlike the majority of present-day cases available in the market, this chassis has got frontal PSU localization. Such placement provides more space for voluminous components and is supposed to reduce the unit's thermal conditions. Frontal localization saves PSU from all hot components, like graphics adapters, which partially 'shift' hot air to it. The unit itself is placed on a mast house where it is connected by 220V with the corresponding socket on the rear facet.
To continue, this model supports motherboards of ATX, E-ATX and XL-ATX standard, graphics cards of 380 mm in length, and CPU coolers of up to 170 mm in height. The frontal part of the case houses a dedicated bay for the installation of six 3.5-inch HDDs or three 2.5-inch SSDs, a single bay for 5.25-inch drive. There is one more additional bay on the bottom section for the integration either of two 3.5-inch or four 2.5-inch drives. The main HDD bay for six drives supports Hotswap option.
Cooling System
The chassis boasts an outstanding cooling system, initially consisting of five pre-installed fans. The first two 120 mm fans are situated in the frontal section with the target to supply cooling to HDD bay. They have got screwless fixture based on vibration-proof pads and an anti-dust filters. Their rotational speed is set for 1200 RPM. Similar fan is placed in the rear section of the case. The last two 140 mm fans are located in the upper sections; they develop up to 1000 RPM rotational speed.
All five fans feature 3-contact Power connectors equipped with adapters to Molex. Unfortunately, Lian Li did not stipulate the possibility of adjusting their rotational speed mechanically, still there is a chance of integrating a small-sized controller-plug at one of the rear slots.