Bestuurders deur die ID of naam van die toestel
Bekende toestelle:163074949
Die laaste bekende bestuurder: 15.12.2019
Router TP-Link Nano TL-WR702N Review
Wi-Fi technology has got wide prevalence in recent years, offering convenient and efficient Internet connection. Nevertheless, when it comes about traveling to the remote sites, Wi-Fi connection might be poor or absent at all. The release of router TP-Link Nano TL-WR702N was called to solve the problem of poor signal or connectivity while on move. It enables the creation of a separate Internet access point or the amplification of the available signal.
Layout and Destination
TP-Link Nano TL-WR702N has been developed with good portability and simplicity of use in mind. It goes in blue, green and pink colors. The major peculiarity of this router is its dimensions: it's the most compact wireless model in the market which can be easily transported due to the hand-size properties. Irrespective of the size, the router proves to show outstanding efficiency in the accomplishment of all basic wireless applications.
Model Nano TL-WR702N is a multi-functional wireless network device which operates in different modes, including access point, client and retranslator, bridge, and router. Nano TL-WR702N is destined for the employment with tablets, game consoles, and other portable devices. This router is powered either by the external adapter or via USB connection. The creation of wireless access point is a matter of minutes with Nano TL-WR702N: a customer just needs to enable WAN cable and enter the password for Wi-Fi connection. No other adjustments are needed to activate its operation.
The nominal delivery set includes the router itself, planar network cable, software with drivers, and user manual. Power supply capability is realized with the versatility in mind. This router is equipped with a standard micro-USB port instead of power socket. The adapter, in its turn, accommodates a detachable cable with USB plug on one end, and micro-USB on the other one. This way the router can be powered from PC or other device with the integrated USB or micro-USB sockets.
Basic Specifications and Facilities
Router Nano TL-WR702N employs WEP and WPA-PSK/WPA2-PSK encryption modes that are called to safely protect the wireless network from breaches. The maximal immunity is achieved through the preliminary encoding activities which establish the nominal name and password of the network. Other specifications of this router include:
— availability of the internal antenna for the signal amplification;
— support of IEEE 802.11b/g/n standards;
— support of WDS technologies;
— compatibility with practically all Wi-Fi devices which operate at 2.4 GHz frequency;
— connection speed reaches 150 Mb/sec;
— power: 5V, 1A.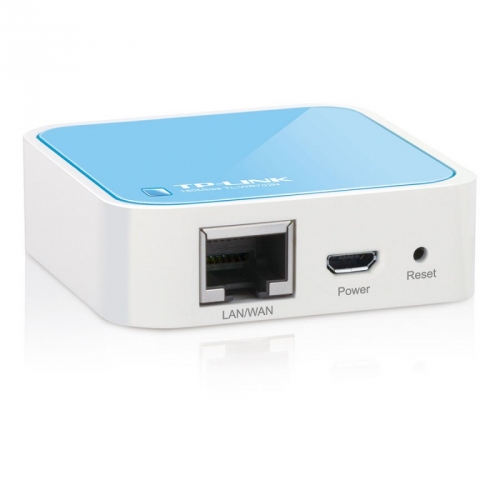 Framework
Nano TL-WR702N is based on wireless Atheros AR9331 chip and highly-integrated system on Atheros AR7240 chip. The latter consists of CPU with 400 MHz frequency, USB interface and controllers. This model is equipped with 16 Mb of RAM which yields to desktop models with 64 Mb. Flash memory approximates 2 Mb. The router lacks a chip with Ethernet-switch which is present in desktop products.
Settings and Controll
TP-Link Nano is characterized by solid functionality despite the size or destination. Control panel is divided into three frames: left frame is dedicated to sections menu, central frame – to sections settings, while right frame – to the settings outline. Due to the router's predestination to be used on move, developers have included a beneficial option, allowing customers to link the network card hard-based addresses to IP-addresses. Thus, the laptop (or other device) will always receive one and the same local address and will not require the resetting of port-forwarding standards. Port-forwarding has got several variants, involving DMZ (one of the PCs is available for all Internet connections) and Port Triggering.
To continue, as it was mentioned before, Nano TL-WR702N is able to work in several modes. The user just needs to select the necessary submenu in Working Mode section. This router can work primarily in Access Point mode which is activated by default. This mode links client PCs with the network. Client mode enables the connection of the device furnished with Ethernet-port only to Wi-Fi network. Bridge mode is able to link two Wi-Fi networks. Finally, router mode ensures the wireless access to the external Ethernet network via Wi-Fi connection.