Bestuurders deur die ID of naam van die toestel
Bekende toestelle:163074949
Die laaste bekende bestuurder: 15.12.2019
Small-Sized CPU Cooler Thermalright AXP-100 Review
Being an acknowledged leader in the segment of PC cooling systems, Thermalright never stops its improvement. The company always keeps pace with time, supplying its customers with only advanced and up-dated products. Following the latest tendencies towards the miniaturization in HTPC field, Thermalright took a decision to design a cooler for small-sized mini-ITX motherboards. As a result, all potential customers can now revel in a new compact cooler, codenamed AXP-100.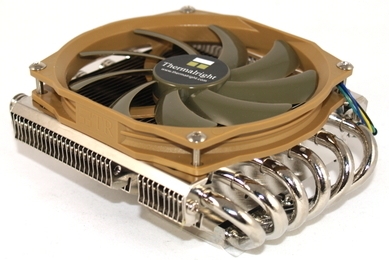 Design and Framework
CPU cooler AXP-100 features a horizontal framework, consisting of thin aluminum plates pieced by six copper heatpipes (6 mm each pipe). The whole construction is covered by a nickel surface. The heatpipes are folded smoothly and distributed across the heatsink area with 10 mm spacing; their edges are covered by ornamental caps with 'Thermalright' logo. Such configuration ensures utmost heat dissipation across the surface.
The implemented heatsink has got two-stage structure, leveled on the sides and drooped towards CPU socket. This is done with the purpose to evade any conflicts between the cooler and the height of memory modules. Its base is polished to a mirror finish, though there is a visible bulging near the central pipes. The base gives birth to a couple of metallic wires which serve the functions of additional props. The foot is traditionally covered by a protective sticker that is to be removed on installation.
Fan
The integrated fan TR-TY100 features 108x101x14 mm overall dimensions and 95 mm impeller diameter. Thus, its bores suit 92 mm dimensional type. Fan's framework consists of nine curved ribs, a distichous ball bearing, and four-contact connector. It is intended to operate at 12V voltage (0.25A). Its rotational speed is adjusted by means of PWM technology (range: 900-2500 RPM). Thermalright delivers its AXP-100 cooler with a dedicated frame adapter that allows fixing 120 mm fan to the available bores.
Delivery Set
Thermalright AXP-100 is delivered in a conventional to this manufacturer package. Its contents include an installation kit, a fan, and a heatsink. The installation kit embraces a universal backplate, a fixing cooler frame, a frame adapter, a set of screws and pads, a binding clip, an isolation pad for AMD and Intel LGA775 sockets, and a thermal compound.
Other Specifications
More specific parameters of CPU cooler AXP-100 are listed below:
— dimensions and weight: 122x106x45 mm, 360 g.;
— number of heatsink plates: 34;
— compatibility with CPU sockets: AMD (FM1, FM2, AM2/AM2+, AM3/AM3+) and Intel (LGA 2011, 1366, 1156, 1155, 775);
— fan: rotational speed – 900-2500 RPM, produced airflow – 27-77 m3, noise level – 22-30 dB, peak power consumption – 3W, nominal voltage index – 12V, time of foolproof operation – 50 thousand hours.
Installation
This CPU cooler might be installed into all contemporary processor sockets. The process itself starts from the preparation of a universal backplate (not necessary for LGA 2011 socket). First of all, it's necessary to slide the screws through the dedicated holes in the backplate and then fix them from the other side by plastic pads. Further on, this plate is attached to the motherboard with metallic stands screwed on the helix. Available fixing frame provides for a single position for AMD sockets, thus the cooler can be oriented in two directions; however, Intel sockets allow rotating the frame and this gives four possible variations for the cooler's orientation. The frame is then attached to the stand and screwed tightly.
The next step presupposes the application of the thermal compound to the CPU and immediate attachment of cooler. Screws on both sides of the frame should be fastened. The final step is to fix the fan to the heatsink.