Bestuurders deur die ID of naam van die toestel
Bekende toestelle:163074949
Die laaste bekende bestuurder: 15.12.2019
Solid-State Drive Verbatim SATA III 240 GB Review
With the appearance of first SSDs in the market the battle between traditional HDDs and new products has started. Manufacturers tried to implement ever better technologies in their creations or began developing both directions at once to succeed. Today the rivalry between the two types of drives has reached its peak, since each product offers advanced facilities and embrace practically all spheres where the need for data transfer and storage is required. Verbatim marches in step with contemporary requirements and launches SSD with SATA III interface and quite voluminous capacity.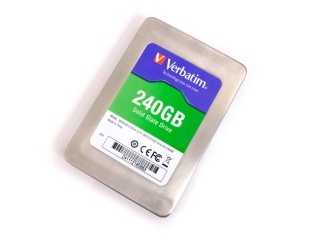 General Peculiarities
SSD Verbatim SATA III 240 GB is delivered in an unobtrusive cardbox. The delivery kit is void of any accompanying components, so users will have to acquire SATA III cable or adapter for the installation into 3.5 inch bays by themselves. Nevertheless, it's possible to find a detailed user manual and 3-year limited warranty. This SSD model is distinguished by a simple design with chamfered edges; the casing is made of solid metal.
Framework and layout do not raise any censures as the casing looks and feels quite durable. The product is made of only high-qualitative components to ameliorate the efficiency and minimize crash possibilities. It results in the increase of foolproof properties up to 2 million hours. One of the major advantages of Verbatim SATA III SSD is the absence of movable parts which save the system from noise and vibrations. This way, this product is a perfect match for any laptop or desktop PC. Verbatim is compatible with Windows (Vista, 7, XP), Linux (Kernel 2.4 and higher), and Mac OS X 10.4 (and higher) OS.
This model is based on SandForce processor that supports DuraClass technology. Moreover, the drive boasts the integration of RAISE technology that ensures error-free operation and own high level of ECC (error correction properties).
Supported Technologies
To continue, it should be stated that Verbatim SATA III drive supports different advanced technologies which are called to add efficiency to the high-end computer systems.
1. Support of S.M.A.R.T. Verbatim SATA III 240 GB owns improved options of error correction. The implementation of this technology provides for the analyzing, self-monitoring and reporting facilities which are intended to ensure unimpeded, foolproof operation of the drive.
2. Support of TRIM for Windows 7. The implementation of this technology allows the operating system to detect the needless data and eliminate it with the aim to give room for more writing activities and better performance.
Testing
SSD Verbatim SATA III is characterized by good level of operating speed. Thus, the drive is able to transfer data at 6 Gb per second; the average Read speed approximates 450 MB/sec, while the average Write speed – 530 MB/sec. Crystal Disk Mark test allows estimating data transfer speed at consecutive and random access to the drive. The results prove that this SSD is able to achieve 401 Mb/sec and 323 Mb/sec of Read/Write consecutive speed correspondingly. At the same time, access time to the drive fluctuates within the boundaries of 0.383 ms on reading operations and 0.432 ms on writing operations.