السائقين من خلال معرف أو اسم الجهاز
الأجهزة المعروفة :165022367
آخر المعروف السائق: 23.12.2020
Delux Launches New Gaming Chassis MZ407
Delux Technology, a renowned developer of various hardware items and peripherals, launches a new PC chassis MZ407 targeting gamers. The model features 450x192x435 mm dimensions and is able to support motherboards of ATX or micro-ATX standard, PSUs of ATX form-factor, and up to seven PCI expansion cards. In retail sale the chassis will be available in three design variations: in Navy Blue coloring, in Army Green military style, and in classic Black coloring.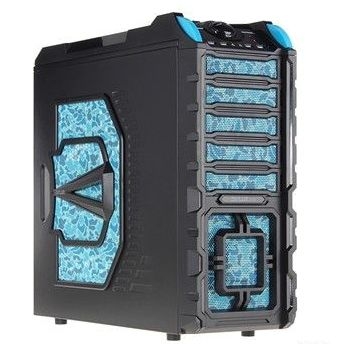 I/O panel has got quite an unusual lay-out: it's located on a sloped joint of the top and frontal facets. This panel boasts standard 3.5 mm audio slots (for headphones/microphone), USB 2.0 and USB 3.0 ports, as well as cooling system/backlight control switch.
Delux MZ407 is ready to accommodate graphics adapters of up to 280 mm in length. Besides, the chassis has got four bays for 5.25-inch drives and five bays for 3.5-inch drives. It should be mentioned that the user won't require any additional tools in order to install the necessary drives.
Cooling process is organized by consolidated efforts of two pre-installed fans of 120 mm dimensional type (on the frontal and rear facets). It's also feasible to install a single 180 mm fan on the side facet and one more 120 mm fan on the top facet. For those users who give preference to the liquid-cooling systems Delux MZ407 offers two rubber holes on the rear facet, habitual to all contemporary customers.