Axtarış sürücü ID ya adına cihaz
Məşhur cihazlar: 165022367
Son tanınmış sürücü: 23.12.2020
ECS Implements Advanced Technologies in Z77H2-A5X Deluxe
ECS is going to release a new motherboard Z77H2-A5X Deluxe developed under the latest technologies with the highest quality standards. The model belongs to ECS Black Series and is predestined specifically for experienced users, overclockers, and just demanding customers. The board is designed in ATX form-factor and employs high-quality semiconductor capacitors, load-proof fins and heat pipes, as well as triple goldish coverage. It is compatible with Intel Ivy/Sandy Bridge processors and LGA1155 socket.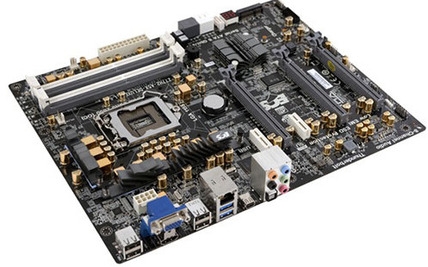 The motherboard inventory embraces 32GB of two-channel DDR3 memory (4 DIMM), the nominal clock frequency of which equals to 1866 MHz; this index might be increased to 2133 MHz on overclocking activity. The board accommodates two PCI Express Gen2 x16 slots (for CrossFireX support and graphics card upgrade), two PCI Express Gen2 x1 and the same number of PCI slots for the connection of other cards. Besides, Z77H2-A5X Deluxe is notable for a good potential in mutual operation with high-speed devices: a couple of SATA 3 6Gb/sec ports, three SATA 2 3Gb/sec ports, and one mSATA 3Gb/sec port.
To continue, this model is equipped with a whole spectrum of external interfaces which enhance the system's performance. Thus, the board includes one Thunderbolt port, two video outputs (HDMI and D-Sub), four USB 2.0 and two USB 3.0 ports, Wi-Fi, Bluetooth and LAN ports, as well as 8-channel HD audio with ATX software support.
Motherboard ECS Z77H2-A5X Deluxe offers a variety of settings, control and monitoring facilities for overclockers. Brand inductor coil ECS Hyper Alloy Chokes secures stability of operation during overclocking due to high power-efficiency and lowered heat release. Durable capacitors, installed in all key nodes, save the system from malfunctions even on the most crucial conditions.
Implemented EZ BIOS is compatible with the newest Windows 8 platform and supports displays with high resolution. Triple goldish coverage on CPU slots, RAM modules and expansion slots ensure a reliable contact between all components even in unfavorable environment.