Пошук драйвераў па ID або імя прылады
Вядомых прыладаў:165022367
Апошні вядомы драйвер: 23.12.2020
Acer Unleashes New Aspire All-in-One PCs
Promoted at Computex 2012 global technical exhibition, Acer Aspire 5600U and 7600U PCs have finally been launched. The models supplemented the series of Acer's all-in-one solutions and offered a number of unmatched opportunities for customers. Among others, Aspire 5600U and Aspire 7600U computers are distinguished by an adjustable stand that doesn't have any mind-bending gismos. One should take into account that the newly launched products feature both similar and dissimilar characteristics.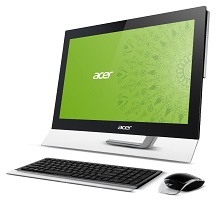 First of all, these all-in-one PCs operate under the instruction of Windows 8 platform. They are equipped with 8GB DRAM of DDR3 type, hard drive of 1TB volume capacity, an integrated card reader, and a couple of USB 3.0 ports. Network facilities are realized via Wi-Fi and Bluetooth modules.
Secondly, both PCs have got quite different internal layout. Aspire 5600U is considered to be a more affordable solution based on up to Intel Core-i5 3110M version CPU (third generation of Ivy Bridge processors) which operates at 2.4 GHz frequency. It features 23-inch sensor display with 1920x1080 resolution. This model is equipped with Intel HD 4000 integrated graphics, three USB 2.0 ports and a single HDMI port. One should consider that the model will be delivered as with sensor so with standard display; this will influence the price ranges.
Aspire 7600U will be delivered with sensor monitor only of 27-inch dimensions. It will be equipped with the Intel Core processors (of up to Core i5 3110M version) and demonstrate 2.5 GHz operational frequency. Moreover, there is room for overclocking up to 3.1 GHz boost frequency. This model will accommodate Nvidia GT640M graphics adapter with 2GB of video memory. The interface panel will be introduced by four USB 2.0 ports and a couple of HDMI ports.