Cercar controladors per identificació o nom del dispositiu
Dispositius coneguts:165022367
L'últim controlador conegut:23.12.2020
Microsoft to Come Out with Surface Studio All-in-One PC
Microsoft has unveiled its first all-in-one PC – Microsoft Surface Studio. Featuring 28-inch PixelSense touch-screen with 4500x3000 pixels resolution, the new-comer is primarily targeting designers, animators and other graphics specialists. The display features 3:2 aspect ratio & 192 PPI. Besides, it offers multi-touch facilities (up to 10 simultaneous touches), supporting calibration in Adobe sRGB & DCI-P3 color environments (there is a possibility to switch between them).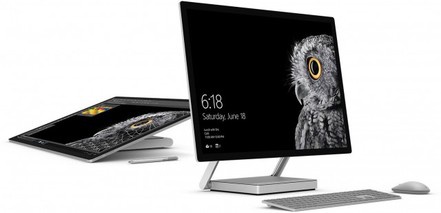 It should be noted that the hardware is housed within the block's base. The stand provides for multiple adjustments in order to achieve the ultimate viewing experience. The model is developed on Intel Core i5/i7 Skylake CPU which is accompanied by 8/16/32 GB RAM and either Nvidia GeForce GTX 965M (2 GB) or Nvidia GeForce GTX 980M (4 GB) GDDR5 graphics.
To continue, Microsoft Surface Studio comes equipped either with 1 TB or 2 TB hybrid drive, and SDXC card-reader. It is run by Windows 10 Pro OS which ensures the most advanced operational features. The display is fitted with 5 mpx Windows Hello frontal camera that supports video recording in Full HD resolution. They are paired with 2.1-channel speakers & two microphones with Dolby Audio Premium support.
The all-in-one solution accommodates gigabit Ethernet port, Bluetooth 4.0 adapter, Xbox wireless adapter, and 802.11ac Wi-Fi wireless network adapter. The I/O external panel is introduced by a single RJ45 port, a single 3.5-mm audio socket, a single mini-DisplayPort, and four USB 3.0 ports.
Pricing starts at $2999 for the least packed version and ends up at $4199 for the most stuffed one.